Linfox's Intermodal team commences a new major cold chain route for Coles.
Linfox is keeping communities well-stocked with an investment in new temperature-controlled triple road trains on the Adelaide to Darwin route.
"We have boosted Coles' cold-chain transport capability throughout this important corridor," explained Linfox President Intermodal, Ian Strachan.
"Our new, impressive fleet will supply all Darwin Coles stores with meat, dairy and fresh produce, connecting shorter shelf-life fresh products with Coles and their Darwin consumers a full day earlier," he said.
Each of the six high-capacity vehicles is powered by new Volvo prime movers and new trailers carrying three high-tech temperature-controlled containers, totalling up to 53.5 metres in length.
The container temperature is monitored by Linfox's CoolTrax technology throughout the journey, ensuring the freshest, safest products and the reliable cold chain logistics for which Linfox is trusted.
National connections
Part of Linfox's intermodal network, the Adelaide to Darwin service currently runs six days per week, with two Linfox drivers teaming up to safely conduct each 38 to 40-hour non-stop journey.
On return to Adelaide, the Linfox triple road trains stop in Mataranka (around 420 kilometres southeast of Darwin), collecting fresh produce from the local community bound for various parts of the nation, transported with Linfox's trusted cold chain capability.
"As the demand for road transport is expected to increase substantially, Linfox is working smarter to boost productivity without increasing road volumes, safety risks and cost pressures," said Ian.
"Using these types of road trains helps us maximise freight capacity and efficiency, without compromising product quality, increasing safety risks, or worsening the impact on road infrastructure and the environment.
"This is in line with Linfox's Vision Zero safety promise and our pledge to act sustainably on our journey to zero net emissions," he said.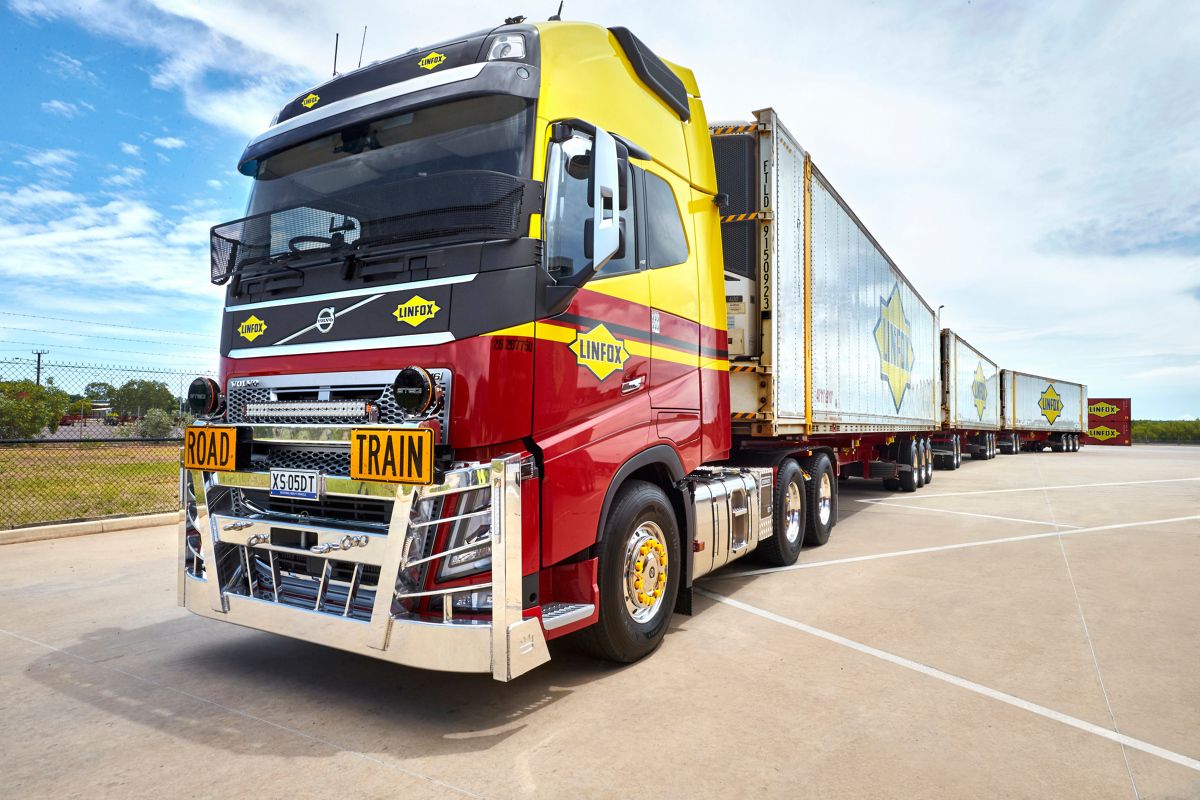 The numbers:
Intermodal temperature-controlled triple road train service 
Adelaide to Darwin return
38-40-hour, 3,000+km one-way journey
6 new Volvo FH16 prime movers and high-capacity Krueger trailers
53.5m total vehicle length
144 pallets/72 pallet spaces
48-foot rail thermo-containers
Monitored by Linfox's CoolTrax technology, ensuring the freshest, safest products and the reliable cold chain logistics for which Linfox is trusted.
A safer vision
Linfox maintains Australia's most modern and safe transport fleet. These new vehicles are no exception. In addition to Volvo's FH16 safety features, each includes MTData forward and driver-facing cameras, actively monitored 24/7.
Seeing Machines' Guardian in-cab technology is also installed. The 24/7 system helps drivers recognise potentially unsafe behaviours as they happen.
The detection and intervention technology uses artificial intelligence to monitor drivers' eye closure and head position. At the sign of distraction or fatigue, it intervenes instantly with audio alarms and seat vibration.
Linfox will continue to invest in new, safe, high productivity vehicles, containers and manual handling equipment to supply Australian and New Zealand customers with essentials such as food and fuel.