Technology is all around us, fuelling our decisions, driving change and allowing us to work smarter. When our people have access to the right data, there is nothing they can't achieve together.
When it comes to the safety of our people, the power is in the data. Maintaining a single digit Total Recordable Injury Frequency Rate (TRIFR), which we achieved in FY21, is the result of the many data points that inform us after a safety incident occurs. We use this information to educate our people and change the way we do things to reduce the risk of another team member being hurt in the same way.
The impact of COVID-19 on supply chains has highlighted the importance of communication and visibility. Information flow between our customers and our operations is critical to the successful flow of goods.
The deployment of Linfox's Digital Freight Network (DFN) is enabling us to build more transparent relationships by automating the information exchange with our customers. This connected and intelligent information ecosystem is key in Linfox's journey towards a fully digitised supply chain. Read more about the DFN here.
With advanced technology comes the need for advanced security. As a highly connected enterprise entrusted with customer data, we continue to introduce new security measures and protection for our operations. Every cyberattack on a large organisation reminds us of the importance of being vigilant, and here you can read Microsoft's recommendations to protect a business against four critical cyber threats.
Businesses that have survived, and in some instances thrived, during the pandemic have done so by relying on a network of trusted partners. Linfox's relentless focus on its customers has been rewarded with partnership renewals and new work for several leading organisations including the Australian Government, Arnott's, Australia Post Group, Aspen, Procter & Gamble, Coles, Asahi Beverages, Heinz, ResMed, Woolworths Group, Fortescue Metals Group, Dulux, AKD Timber Trading and Bunnings.
Our reputation has also earned the trust of new customers, including Aldi, Diageo and Super Retail Group. Despite the challenges of the pandemic, we celebrated the launch of new operations for Smith & Nephew, BlueScope Steel, BHP, Unilever, Coronado Global Resources and Amazon.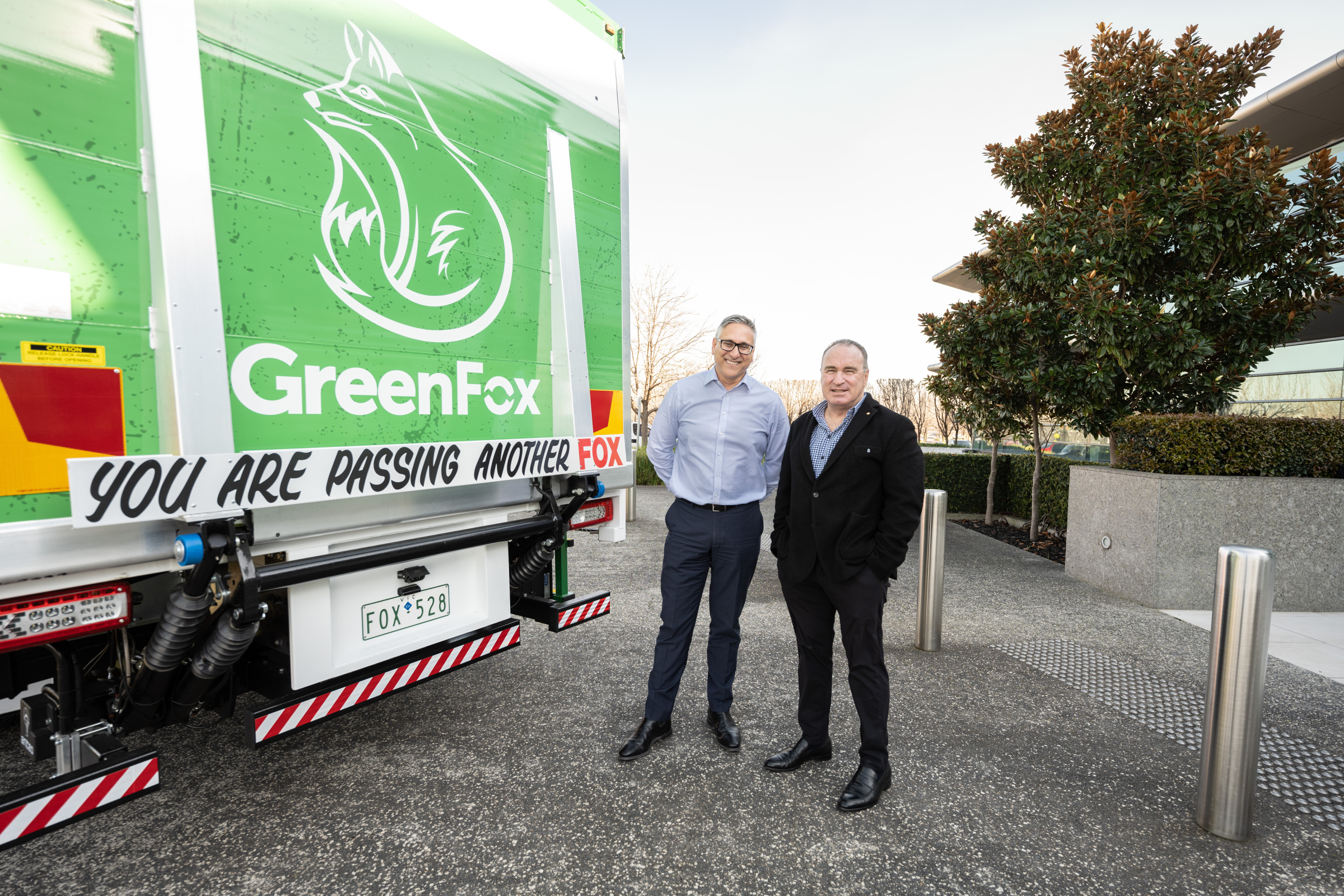 Shopping patterns adopted by consumers during the pandemic are here to stay and retailers' ability to deliver orders quickly is now taken for granted. We must be able to meet these expectations while minimising our impact on the environment.
Our fleet of electric vehicles is growing, with the introduction of a second Volvo FL Electric in Melbourne and four FUSO eCanters coming soon. Electric trucks will play a key role in the future logistics landscape and we look forward to sharing our learnings from this keystone trial.
Left: Celebrating the launch of Linfox's first electric vehicle with Executive Chairman Linfox Pty Ltd, Peter Fox.
Our investment in a world-class intermodal facility in South Australia based on a strategic co-location partnership with Pacific National will allow us to move containers directly between the terminal and the Linfox facility at Regency Park Adelaide by road and rail. The site will be Linfox's second logistics facility with a 5 Star Green Star rating, including renewable electricity from the grid and electric vehicle charging capability. We will continue to embrace the benefits of rail as an efficient and reliable alternative to road transport where we can.
The combination of people and technology creates exciting opportunities. Technology has allowed our team members to work together, collaborate and grow while the pandemic forced us to work apart. As a founding member and technology partner of Healthy Heads in Trucks and Sheds (HHTS), our people are driving the conversation around physical and mental health challenges in our industry and shaping solutions to help solve them. Linfox assisted HHTS to develop a mobile app, improving access to mental health and physical wellbeing support across the Australian supply chain workforce.
Technology will continue to inform the strategic decisions we make based on our Leading the Way 2025 business strategy to be safer, think customer, work smarter, grow stronger, act sustainably and achieve together as we strive to become the most trusted logistics partner in Australia and New Zealand.