Non-Executive Director
Andrew Fox is a Non-Executive Director of the Linfox Australia Pty Ltd, Linfox International Group Pty Ltd and Linfox Armaguard Pty Ltd boards.
Andrew is the Managing Director of Linfox Property Group Pty Ltd, a director of Fox Group Holdings Pty Ltd and numerous other subsidiaries.
Linfox Property Group's portfolio has grown extensively with the acquisition and development of some of the largest industrial properties in the Southern Hemisphere, predominantly utilised by Linfox Logistics, Linfox customers and Armaguard. The group now manages or owns over 8,000,000 sq ft of warehouse space throughout Australia and the Asia Pacific region.
Linfox Property Group owns 50 per cent of Essendon Fields including Essendon Airport. Since 2001, the airport has been revitalised and the vibrant commercial hub of Essendon Fields has been created and continues to grow.
Linfox Property Group also has a diversified portfolio with investments in Phillip Island Grand Prix Circuit and the Australian Automotive Research Centre proving ground, as well as holding extensive industrial land ready for development.
Linfox Property Group both develops properties and manages them post construction.
Andrew is one of six children and the son of trucking magnate Lindsay Fox. He is married with five children and two grandchildren.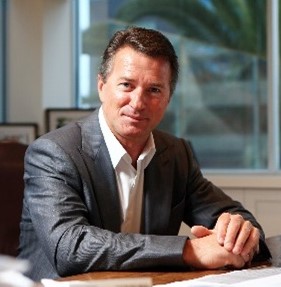 Leadership
Peter Fox AM
Mark Mazurek
Michael Pickard
Janine Ferguson
Andrew Fox
David Fox
Bill Kelty AC
Howard Critchley
Dennis Richardson AC
Peter Yates AM
Mark Whitworth
Peter Fox AM
Ian Strachan
Janine Ferguson
Andrew Fox
David Fox
Bill Kelty AC
Mark Daniel