Linfox has purchased a sizeable new Mercedes Benz Actros fleet to service the vast Coles grocery network in New South Wales.
"Coles has trusted Linfox by extending our partnership for the long term. In support we are investing in the latest fleet to provide our leading transport services throughout the state," said Linfox President Retail, Mick Cronin.
The vehicles meet the sustainable Euro 6 emission standards and boast a full suite of safety features, including the innovative new MirrorCam system.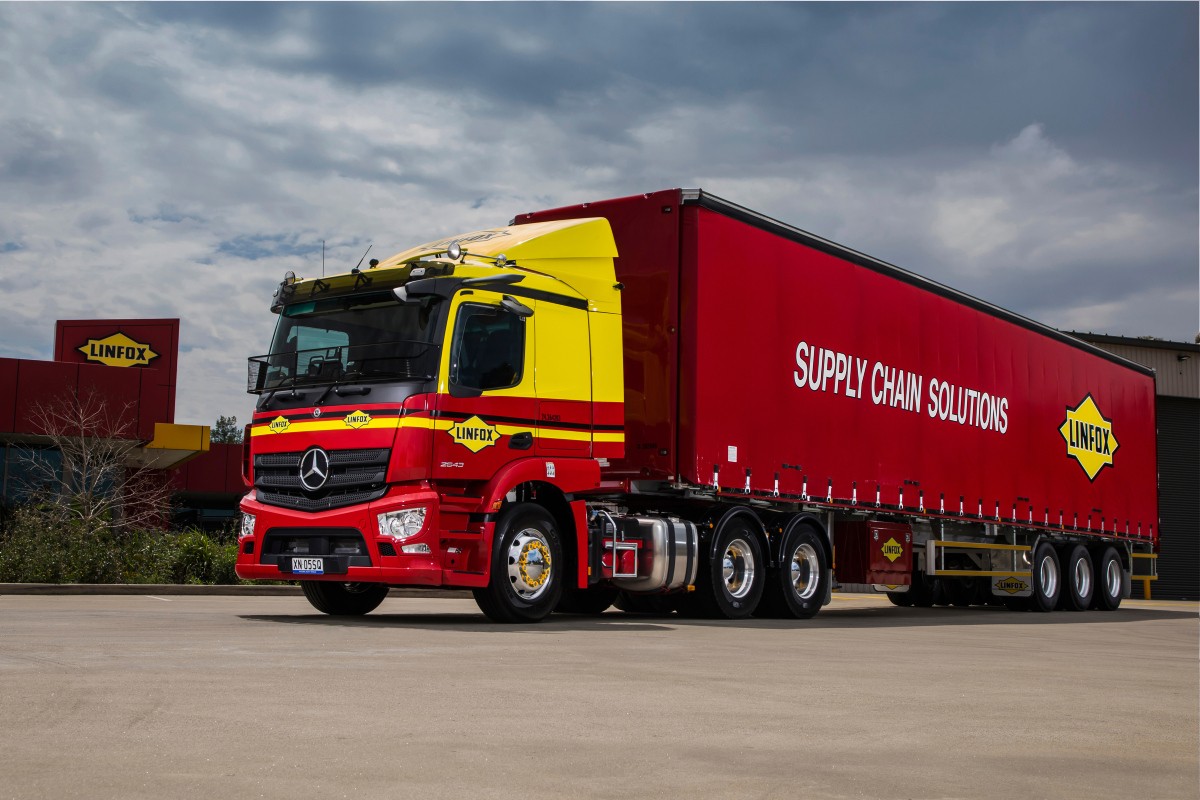 Leading with safety
While MirrorCam significantly cuts drag and improves fuel economy, Linfox particularly welcomes the safety benefits of its improved vision capability.
This feature sees the removal of the traditional mirror and its housing from the driver's view. Instead, camera footage is displayed on 15-inch screens mounted in the cabin. With the screens positioned close to traditional mirrors, drivers can quickly adapt.
The MirrorCam wings are less prone to impact as they are positioned higher and protrude far less than traditional mirrors. They can also flex to limit damage which is particularly advantageous at intersections. The camera improves rear vision at night and during rainy conditions.
The new vehicles feature the latest generation of Active Brake Assist, a radar/camera system now capable of automatic, full emergency braking to avoid pedestrians and other vehicles. The Lane Departure Warning feature alerts the driver if they drift from a lane.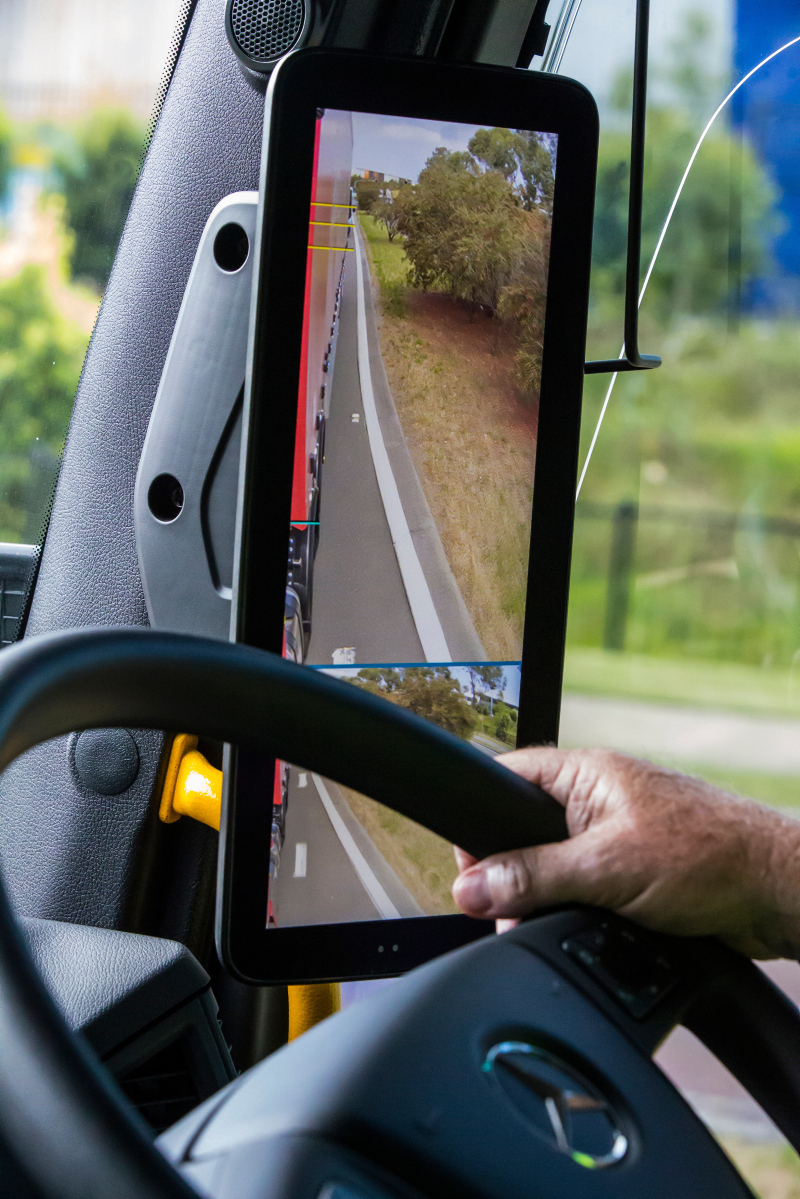 A smart, sustainable fleet
The new multimedia cockpit is displayed via two large tablet screens on the dashboard. One replaces the traditional instrument cluster and sits directly in front of the driver. The left touchscreen can be used to control and examine more features and information. Traditional buttons below the screen also control high-use functions including volume and temperature.
The advanced vehicles boast LED daytime running lights within the headlight cluster, keyless start and a new electronic parking brake, which automatically engages when the engine is switched off.
Linfox's new fleet features both the 11 and 13-litre six-cylinder engine with 430 and 530 horsepower respectively, which both meet Euro 6 emissions standards. This advanced engine uses X-Pulse variable high-pressure fuel injection and is teamed with a 12-speed automated manual transmission.
"In line with Linfox's Vision Zero commitment to be safer and act sustainability, the new Actros safety and environmental features were a key decision maker for us," said Linfox President Fleet, Ray Gamble.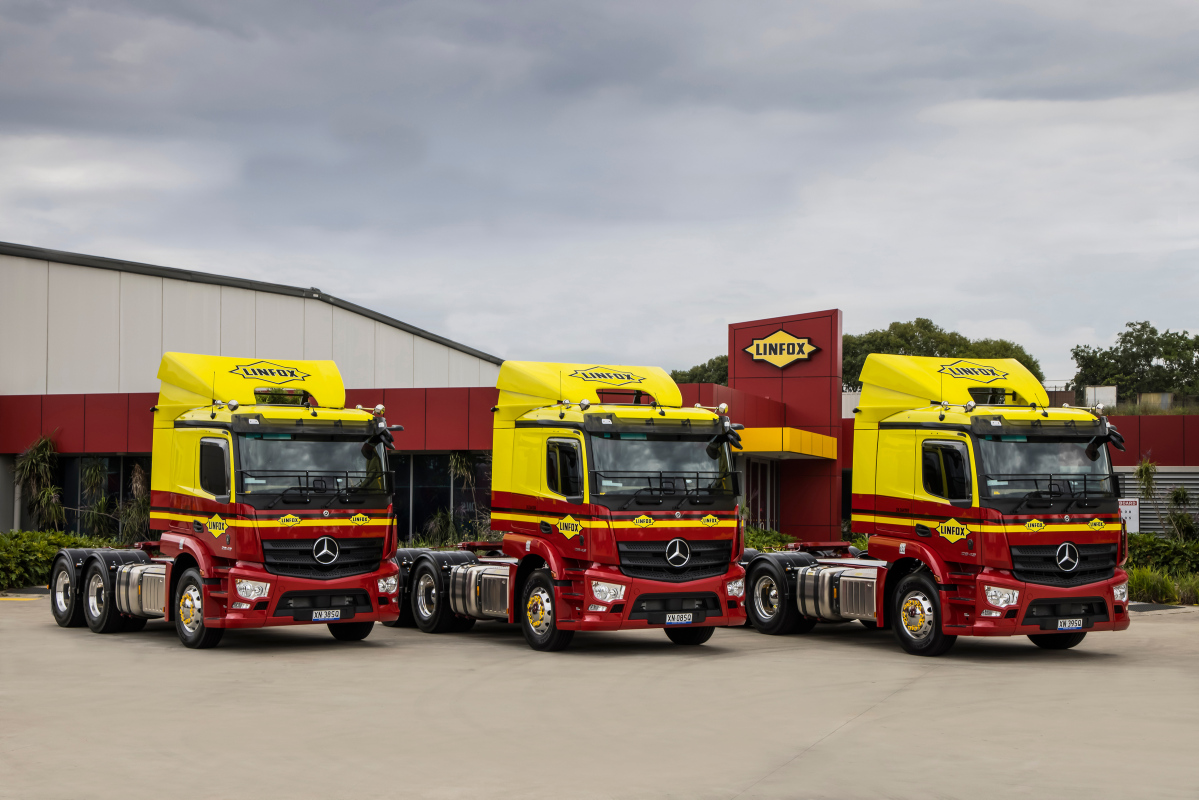 Staying ahead
"Mercedes Benz, Freightliner and Mitsubishi Fuso are part of the Daimler Trucks stable. We stay at the forefront of new technology through a significant commitment to research and development," said Daimler Truck and Bus Australia (DTB) Director Strategic Partners and Business Development, Richard Eyre.
Daimler has invested heavily in leading safety technologies, while reducing emissions with the latest clean diesel technology and zero-emission electric battery powered vehicles. Mercedes-Benz is also working on a heavy-duty fuel cell long distance vehicle, set to be part of a validation program with Linfox.
"DTB sees the importance of bringing the latest truck technologies to the Australian market and ensuring those benefits are realised operationally through its Truck Training driver familiarisation program," said Richard.
"DTB has already begun driver training ahead of the Actros vehicle introduction into the Linfox fleet."