Linfox truck driver Matthew Georga has been honoured with the prestigious Bridgestone Bandag Highway Guardian Award from the Australian Trucking Association (ATA) after his intervention and teamwork with two other motorists helped save the life of a community member.
The Bridgestone Bandag Highway Guardian Award helps shine a light on the excellent work of people in the transport and logistics industry.
Matthew was returning from a delivery when a vehicle ahead began driving erratically. He positioned his truck behind the vehicle and turned on his hazard lights to alert other drivers.
When the vehicle struck a concrete barrier, Matthew safely parked his truck and found the driver slumped over her seat. Another motorist removed the unconscious driver from her car and performed chest compressions while Matthew performed mouth-to-mouth resuscitation until Queensland Ambulance Service arrived.
The driver had suffered a cardiac arrest and the actions of Matthew and others helped save her life.
While the ATA and Bridgestone could not congratulate Matthew in person due to COVID-19 restrictions, both organisations commended Matthew's actions via video conference.
"Congratulations Matthew on being named a Bridgestone Bandag Highway Guardian and thank you for your courageous actions", said David Smith, Chair of the Australian Trucking Association.
Linfox CEO Australia and New Zealand, Mark Mazurek also joined the call.
"Thank you to the ATA and Bridgestone. It is really fantastic to see that there is a mechanism to recognise professional drivers for their brave and selfless actions," he said.
"Matthew, you are a real credit to yourself, your family and to Linfox. You are our third Highway Guardian recipient who has gone beyond their own safety to keep their community and customers safe," Mark said.
"Your presence of mind, your ability and your courage are real credits to you."
Matthew was joined by team members and family during the event at Linfox's Brisbane distribution centre.
"I'm very proud of this moment – very proud to be receiving an award in front of my family and the Linfox team," Matthew said. "I'm grateful that I had the confidence to take control of the situation that day and that the lady who suffered the medical event is safe and her life has carried on."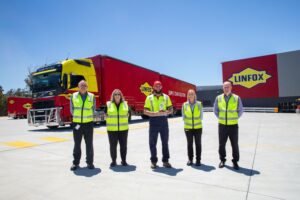 Photo: Left to right: Tony McGrath – Linfox Site Manager, Wendy Maroney – Linfox Safety and Compliance Officer, Matthew Georga – Linfox Driver, Melinda Stranger – Linfox Safety and Compliance Advisor, Andrew Todd – Linfox Regional Manager Consumer and Healthcare Group