Linfox launches its first EV for fresh produce in partnership with Woolworths Group
Linfox's first refrigerated electric vehicle (EV) has joined the Woolworths Group's fleet to deliver fresh produce to stores in metropolitan Melbourne.
The Volvo FL Electric will transport fresh produce daily from the Melbourne fresh food distribution centre operated by the Woolworths Group's supply chain arm, Primary Connect.
Just one of two Volvo FL Electrics in Australia and 75 released globally, it is the only Volvo FL electric vehicle in Australia to be fitted with refrigeration. The jointly branded vehicle can deliver up to 8 pallets of produce to Woolworths supermarkets at a time while hardly making a sound.
The Electric FL utilises four batteries to achieve an energy capacity of 200 kWh, such is the pace of battery development however, future iterations will feature a capacity of 265kWh. The electric driveline provides 425Nm of torque which is delivered to the rear wheels via a 2-speed automated transmission.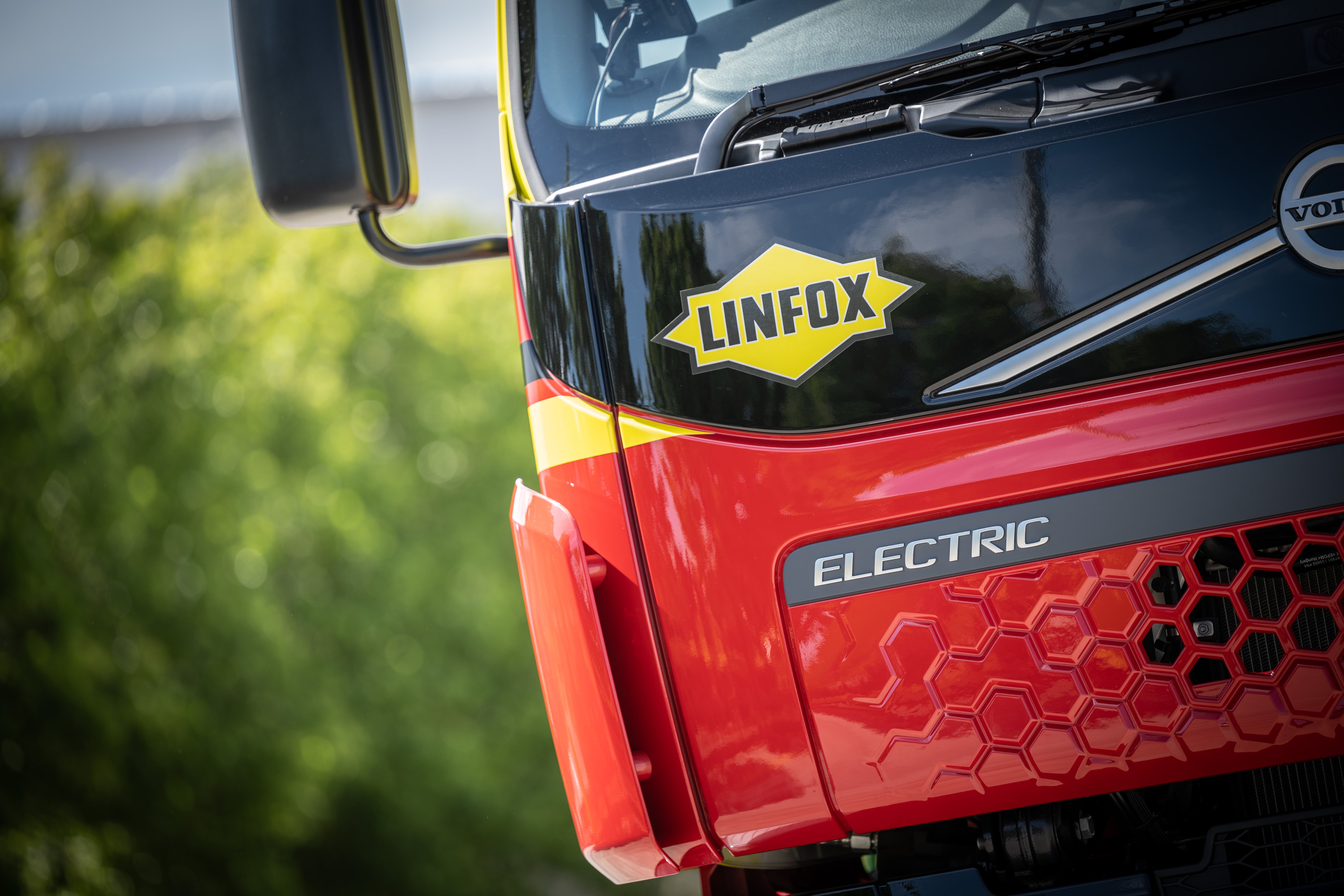 Like its diesel-powered counterparts the Electric FL maintains a full suite of active safety systems including Autonomous Emergency Braking. The Electric FL also achieves the rigorous Swedish BOF10 crash rating which surpasses current European standards.
Acting Managing Director of Primary Connect and Chief Supply Chain Officer of Woolworths Group, Chris Brooks said: "From the products in our supermarkets to the trucks that deliver them, we know the changes we make to become more sustainable today will create a better tomorrow for generations to come.
"Linfox has been with us on our journey of electric vehicles since 2018 and we share a commitment to sustainability.
"We're excited to deepen our investment in electric vehicles in partnership with Linfox, as we pave the way for a greener next-generation supply chain. We supply more than 1,000 supermarkets across the country, and the ongoing development of heavy electric trucks represents an opportunity for us to drive positive change on Australia's roads.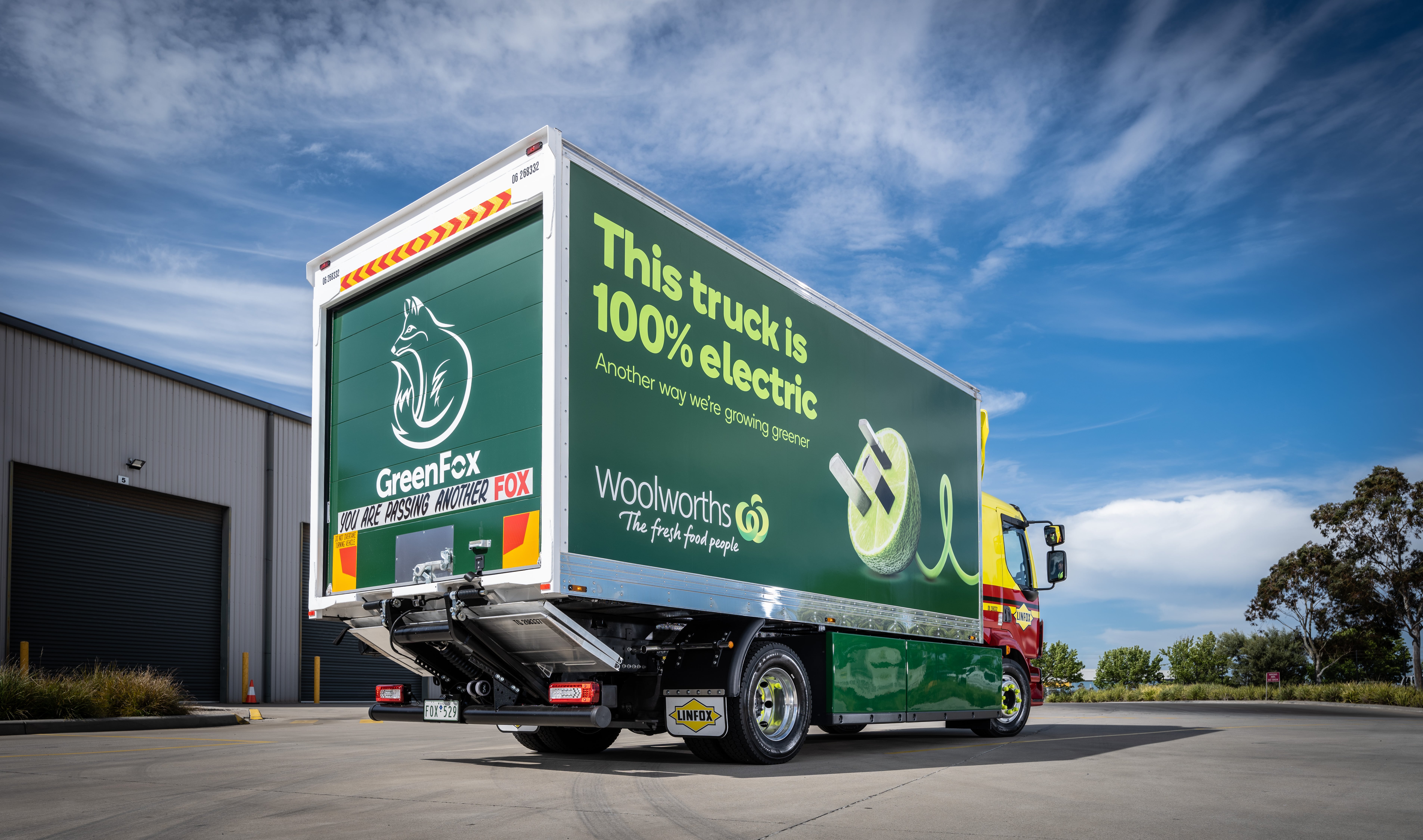 "We will be watching the results of this trial closely with Linfox to understand how electric trucks can support our shift to a low carbon future in the years ahead."
The environmentally friendly EV has no carbon emissions, unlike diesel-powered trucks. It also has 'regen' capability which means every time it travels downhill or brakes, the battery can recharge.
A charging station at the Melbourne Fresh DC will boost the battery while deliveries are unloaded. The EV can travel up to 200km before needing to be recharged and takes nine hours to fully recharge.
Launched in 2020, Linfox's Leading the Way 2025 business strategy identifies 'act sustainably' as a key strategic driver. Linfox's GreenFox sustainability program targets cleaner transport and mitigation of diesel emissions amongst other important sustainability initiatives.
"In 2007, Linfox set out to cut its greenhouse gas emissions in half and we did that," said Linfox Pty Ltd Executive Chairman, Peter Fox.
"Today we are not just interested in making our own business practices greener, we are committed to helping our customers act sustainably too. Linfox is proud to lead the way in the adoption of electric vehicles as we strive to meet our zero emission targets and support our customers to do the same.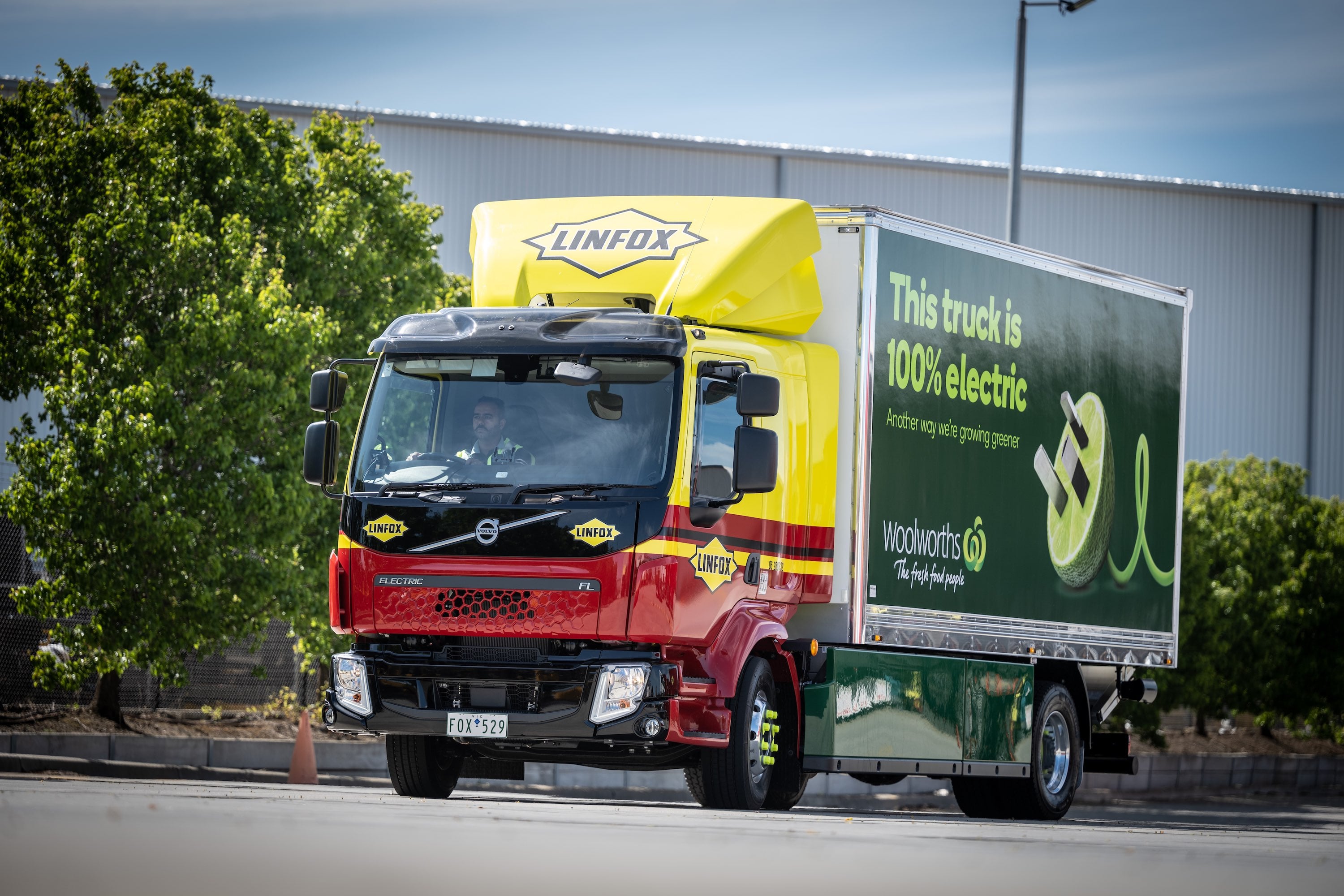 "With shared values, environmental considerations are at the top of Linfox, Woolworths and Volvo's agendas. It is partnerships like this that can drive big change," Peter said.
Volvo Group Australia's Vice President, Technology Business Development, Paull Illmer also pointed out the value of close stakeholder relationships as EV infrastructure develops and matures.
"Partnership is indeed the new leadership as mobility around the world continues to transform, and partnering with businesses like Linfox and Woolworths, who share our values and vision, will ensure our ambition to implement emissions free transport solutions are in good hands."
"Volvo Group recently unveiled a vision of a carbon free future," says Martin Merrick, President and CEO, Volvo Group Australia, "and we are proud to be playing our part in making the first steps towards achieving that goal here in Australia with these trial vehicles."
For further information please contact:
Linfox Communications and Corporate Affairs team on +61 (0)438 057 769
Woolworths Group Press Office on (02) 8885 1033
Volvo Communications Manager on +61 (0)436 681 117