The COVID-19 crisis has challenged many parts of our nations, but some communities have done it tougher than others.
In the remote far-western NSW town of Wilcannia, a significant portion of the predominantly Aboriginal population tested positive for the virus during the Delta outbreak.
As the Australian Defence Force, police force and emergency services set up tents in the small town to support the vaccination of community members, a Linfox semi trailer served as a pop-up emergency hub for health workers, counsellors, local Indigenous groups and volunteers.
The trailer also provided a management centre for the distribution of food hampers donated by OzHarvest for people isolating in their homes.
The Linfox trailer was donated by Linfox founder Lindsay Fox in 2017, when it was repurposed as a mobile youth centre for Youth Off The Streets, a not-for-profit youth organisation that provides young people in need with safety, support and opportunities to build a positive future.
CEO of Youth Off The Streets, Lex Nadine Lutherborrow said: "We were pleased to provide much-needed support for the Wilcannia community in partnership with Linfox. It was great to see the semi-trailer become a vital support centre during a very challenging time for Wilcannia, and a wonderful example of Youth Off The Streets and Linfox working together to support communities in need."
Linfox Fleet Manager, Special Projects, Mick Best drove the truck to Wilcannia.
"In a town of less than 750 overwhelmed by COVID-19, supporting the community, getting them vaccinated quickly and assisting the response teams was crucial," said Mick.
"We are delighted the Linfox Youth Off The Streets trailer provided a safe, useful space to support Wilcannia's emergency management operation."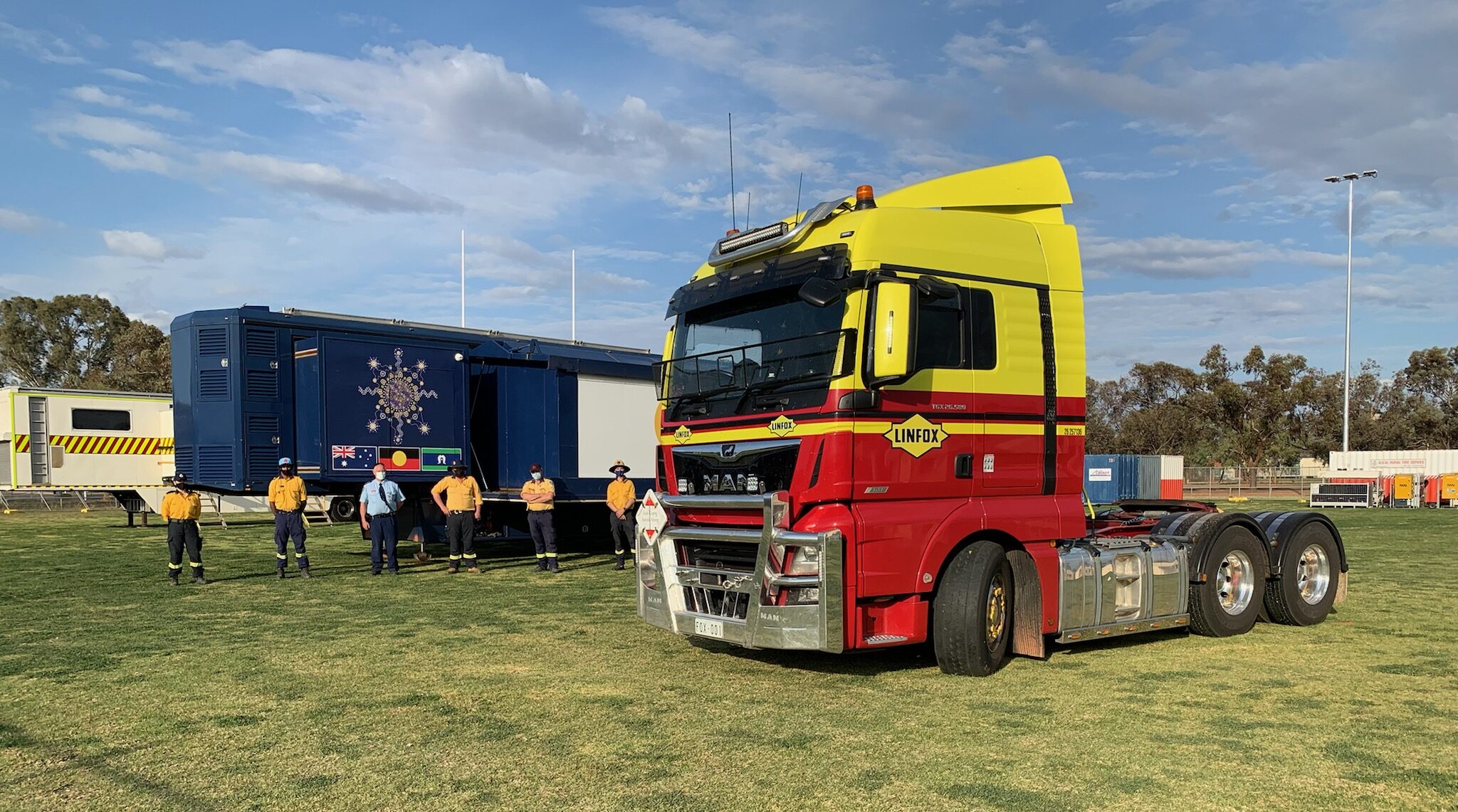 Founded in 1991 by Father Chris Riley, Youth Off The Streets provides a range of wraparound support services to young people, their families and communities.
Linfox recognises that our youth are our future and is proud to support Youth Off The Streets and its important work.
Left: Linfox's custom Youth Off The Streets trailer supported the COVID-19 emergency response in Wilcannia, NSW.