Linfox celebrates another successful year managing the Formula 1® Australian Grand Prix track infrastructure project.
Every year the world watches on as the thrills, excitement and glitz of the Formula 1® Grand Prix program unfolds across the globe. The competition is exhilarating and nail-biting all at once, as drivers strategically navigate tight corners and accelerate to speeds that require razor-sharp precision, concentration and years of experience.
Since 1996, Linfox has harnessed the same qualities to manage, build, manage and dismantle critical track infrastructure at the Albert Park event in Melbourne.
This work keeps participants, teams and spectators safe while helping to support the race – a key Victorian tourism and economic imperative – to be successful and shine on the world stage.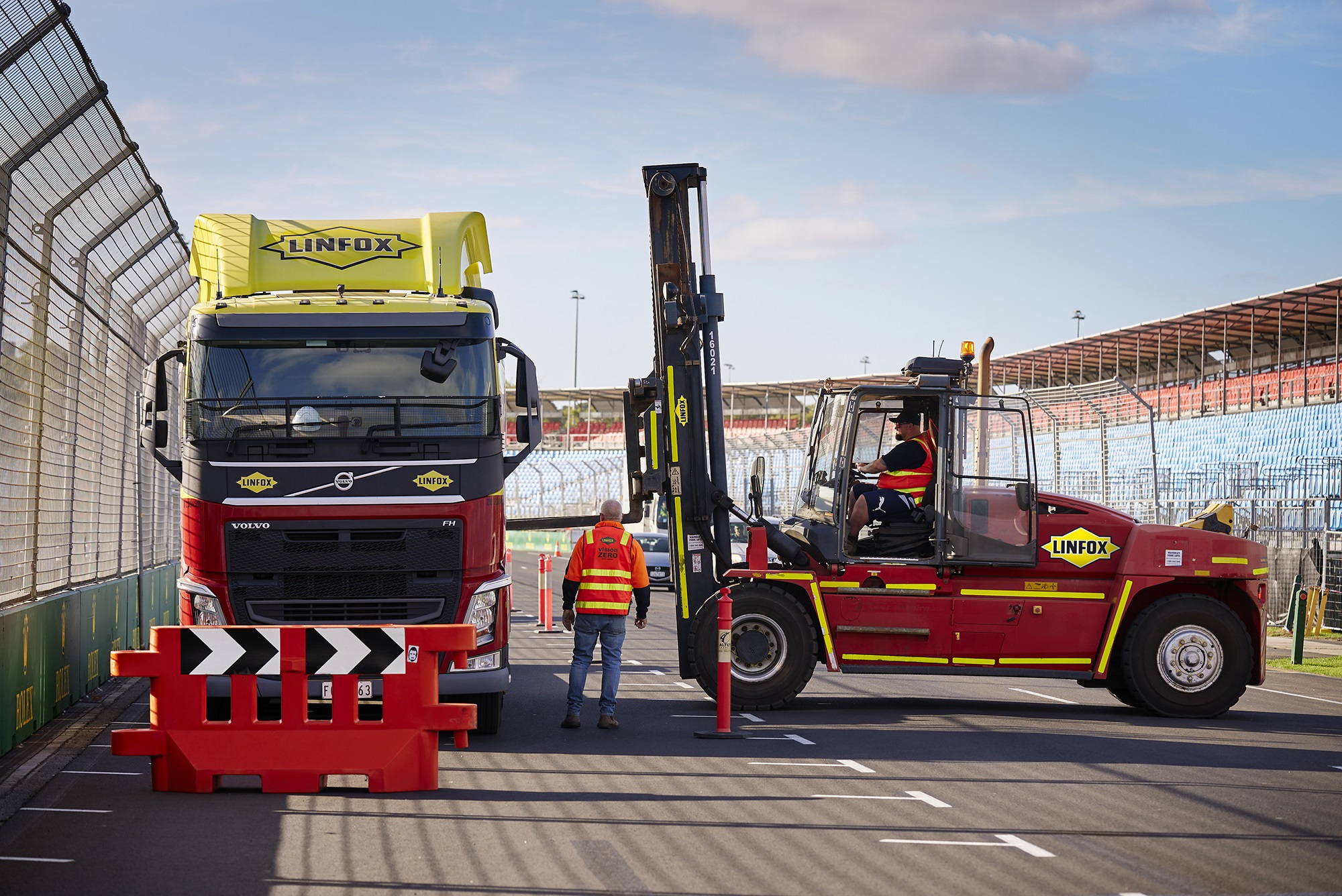 The numbers
Each year a skilled Linfox team of 40 works for 12 weeks to complete the project, with seven weeks dedicated to careful preparation and build alone. This major infrastructure support project has been completed on time, every time since 1996 – an extraordinary task considering the sheer scale of materials managed by the team:
3,100+ concrete barriers each weighing around 4.5 tonnes and delivered across 620 truckloads
53,000 tyres in bundles
3,000 debris fences (these also incorporate photo points, TV panels and special control points)
260 general admission stands.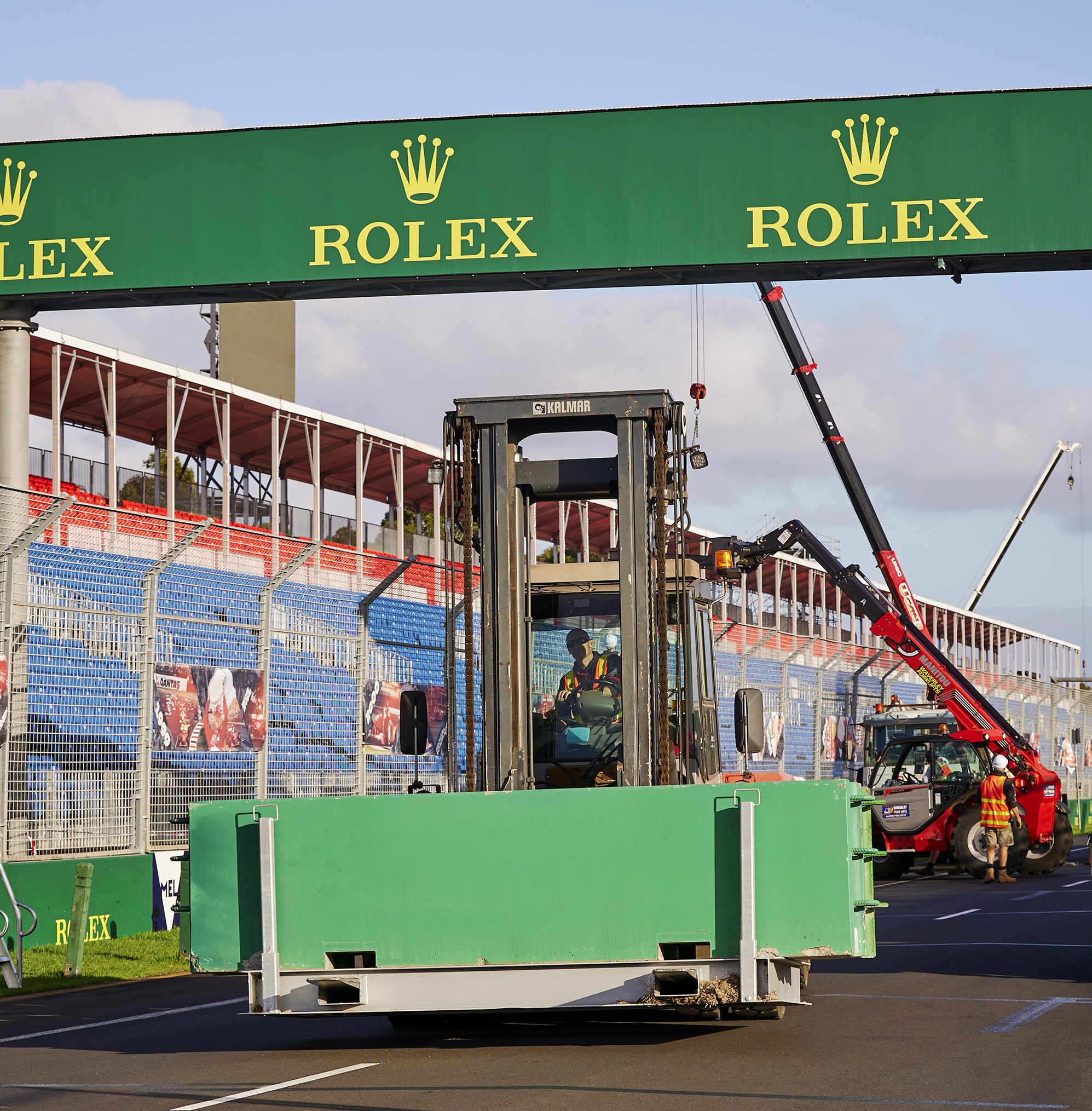 Infrastructure build expertise
Like the famed F1® drivers, Linfox must build track infrastructure with meticulous focus, as the Fédération Internationale de l'Automobile (FIA) approves the track for racing based on Motorsport Australia's inspections, conducted at the start of each race day.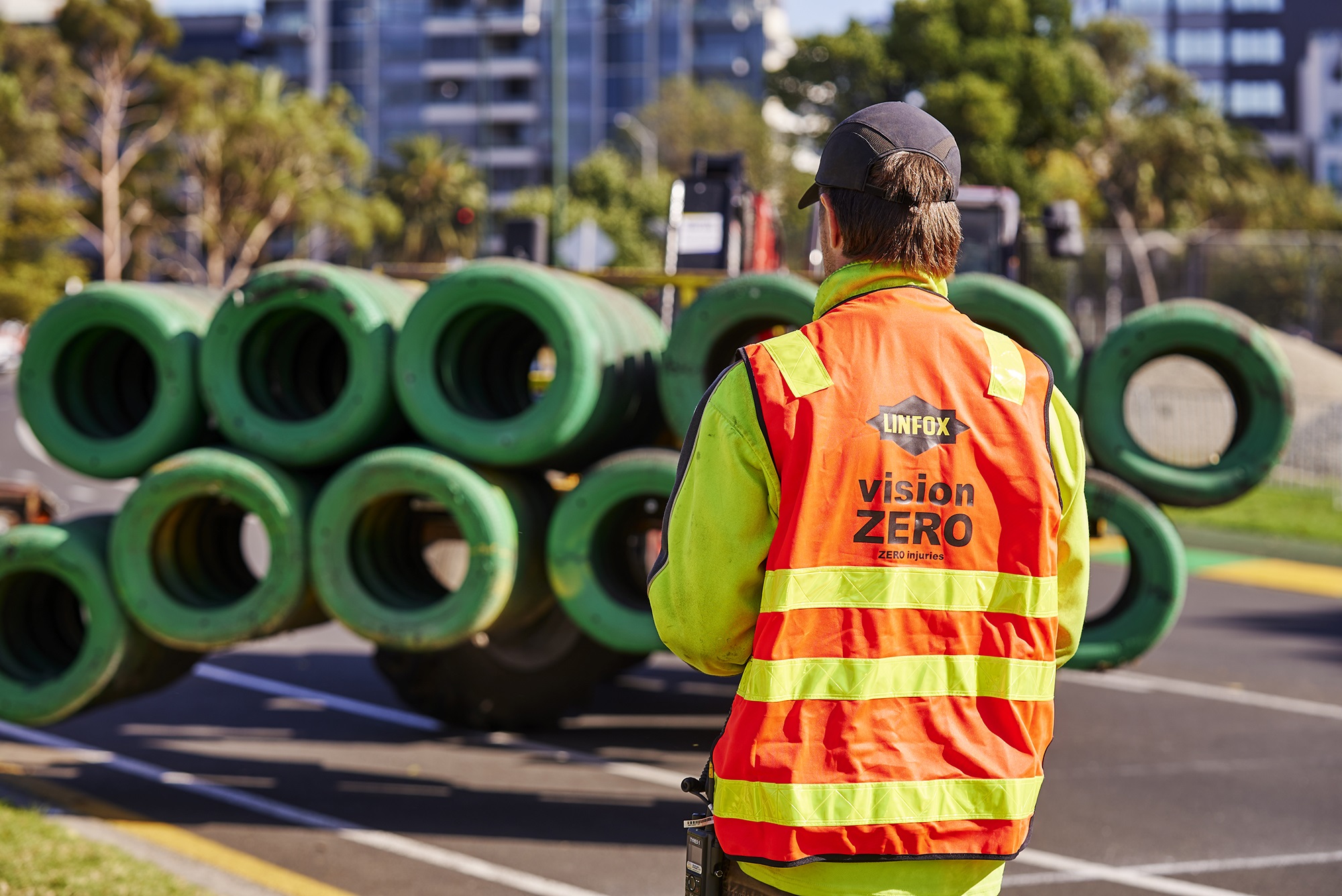 Race event support
The Linfox crew is also on call during the event, responding to any incidents and/or damage to fences, tyres or barriers with urgent repairs. This might be as simple as a fence realignment, or as serious as a damaged block or barrier, where the race is paused while the Linfox team repairs using standby materials.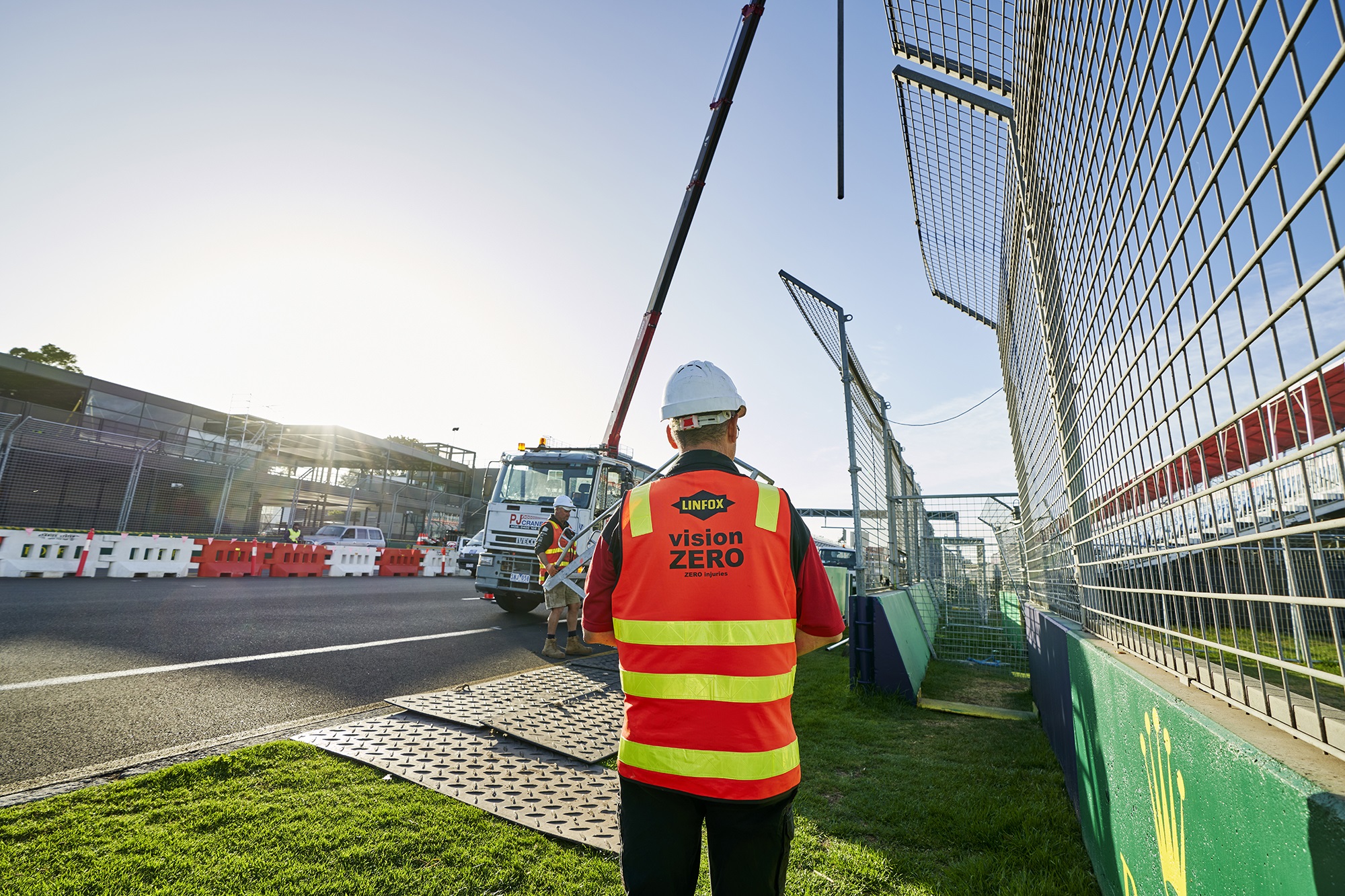 Managing the track
Linfox also manages the track's daily morning closures and evening openings during race week to allow food, beverage and general supply replenishment. The team carries freight from offsite storage for other race event contractors, including up to 130 shipping containers containing everything from perishables to outdoor furniture.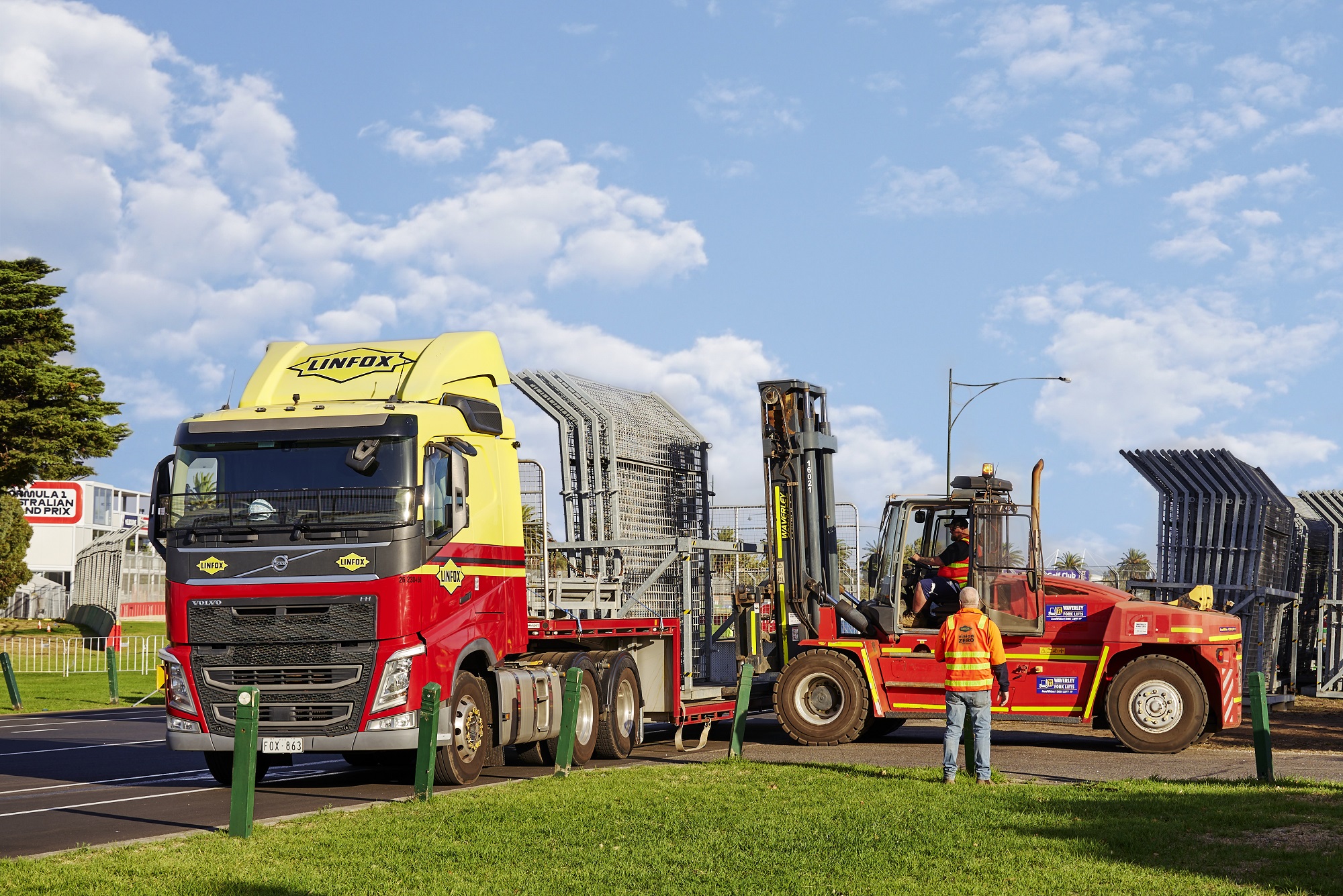 Efficient packdown
Once the event concludes the job is far from over, with only four weeks to dismantle and pack down materials, ahead of transport back to the offsite storage facility in Melbourne's west.
Image: Linfox implemented specialised drop-deck trailer fleet to improve safety and efficiency when transporting fencing infrastructure to and from track locations. This means the materials are moved more quickly with fewer fleet and equipment, while minimising risk to passing traffic.
What gives Linfox the edge?
"We always strive to lead in safety, compliance and chain of responsibility, and we are trusted for it," reflects Linfox National Manager Resources and Industrial East, Ben Hill.
Prior to commencing onsite, Linfox project team members are thoroughly inducted and trained in key construction requirements and manual handling equipment usage. High quality processes, procedures, fleet and equipment facilitate the work.
"We don't just do things the way we always have – if we see an opportunity for improvement, we make it."
"The team is led by Linfox Resources and Industrial National Project Manager, Tony Comito who boasts some 37 years with Linfox and several decades on this project – his enviable expertise and mentorship is invaluable to Linfox and our customer, the Australian Grand Prix Corporation," said Ben.
"Congratulations to the Linfox project team for their outstanding work to create successful and safe Grand Prix event in 2023."