Partnering with Australian start-up Touch Guard Pty Ltd, Linfox Armaguard Group is guarding against the spread of surface spread viruses.
For more than 83 years, Armaguard has been keeping Australian cash safe and secure. Now it's taking on the challenge of protecting the health and safety of communities right across the country by securing a deal with Melbourne-based nanotechnology distribution company Touch Guard Pty Ltd.
"Armaguard has a proud history of protecting Australian communities," said Linfox Armaguard Executive General Manager, Group Transformation and International, Scott Forster.
"Partnering with Touch Guard enables us to continue keeping our customers, their employees, and communities safe, and now we can help keep them healthy as well."
The deal sanctions the use of High Touch Antiviral Surface Protection technology, an optically clear aftermarket solution that is scientifically proven to kill 99.99 per cent of viruses including COVID-19. The revolutionary antibacterial product High Touch by Armaguard, presents limitless application potential across the banking, retail and convenience sectors, providing protection to almost any surface that requires sanitation including community contact points like ATMs, self-service kiosks and devices, and once installed protects with self-disinfecting effects for up to 12 months.
Infused with a patented antiviral copper compound that is proven to continuously kill viruses and bacteria that cause hospital acquired infections (HAIs) including coronaviruses (including SARS-CoV-2), Influenza, E Coli, Staphylococcus and Norovirus, High Touch by Armaguard will initially be rolled out across Armaguard's 2,100 atmx branded cash machines, Australia's largest independent ATM network.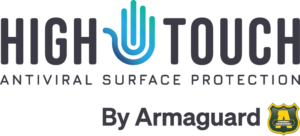 "Our High Touch antiviral film forms an additional line of defence against the spread of viral pathogens that live on surfaces in the community," said Joint Managing Director of Touch Guard Pty Ltd, Jon Burfurd.
"Whilst nothing beats frequent hand washing with soap, it is reassuring to know a growing number of surfaces that we touch every day will now have High Touch Antiviral Surface Protection continuously destroying viruses and bacteria in between normal cleaning."
COVID-19 has highlighted the urgency for all industries to invest in greater protection processes and products to help safeguard their staff, customers and community.
Armaguard is now leading the way with best in class viral and bacterial protection for hard surfaces and devices with High Touch by Armaguard.