The soil has turned on Linfox's construction of the Adelaide Freight Terminal in South Australia. As Australia's growing freight task continues to demand stronger multimodal networks, the multi-million-dollar facility will be a key logistics hub in the trans-Australian rail network and a gateway to and from Australia's north, east and west.
Due for completion in 2023, this sustainable intermodal site will offer generous ambient and temperature-controlled warehouse space, a large container yard, intermodal crossdocking facilities and a cargo-link land bridge to the adjacent rail line. This services the east and west coasts and the inland rail line to Darwin.
This is the next exciting phase in the Linfox and Pacific National co-location agreement for Adelaide Freight Terminal, announced in April 2021.
"The global supply chain disruption of the past two years has reinforced the need to firm up our supply chain pathways in Australia," said CEO Linfox Logistics Australia and New Zealand, Mark Mazurek.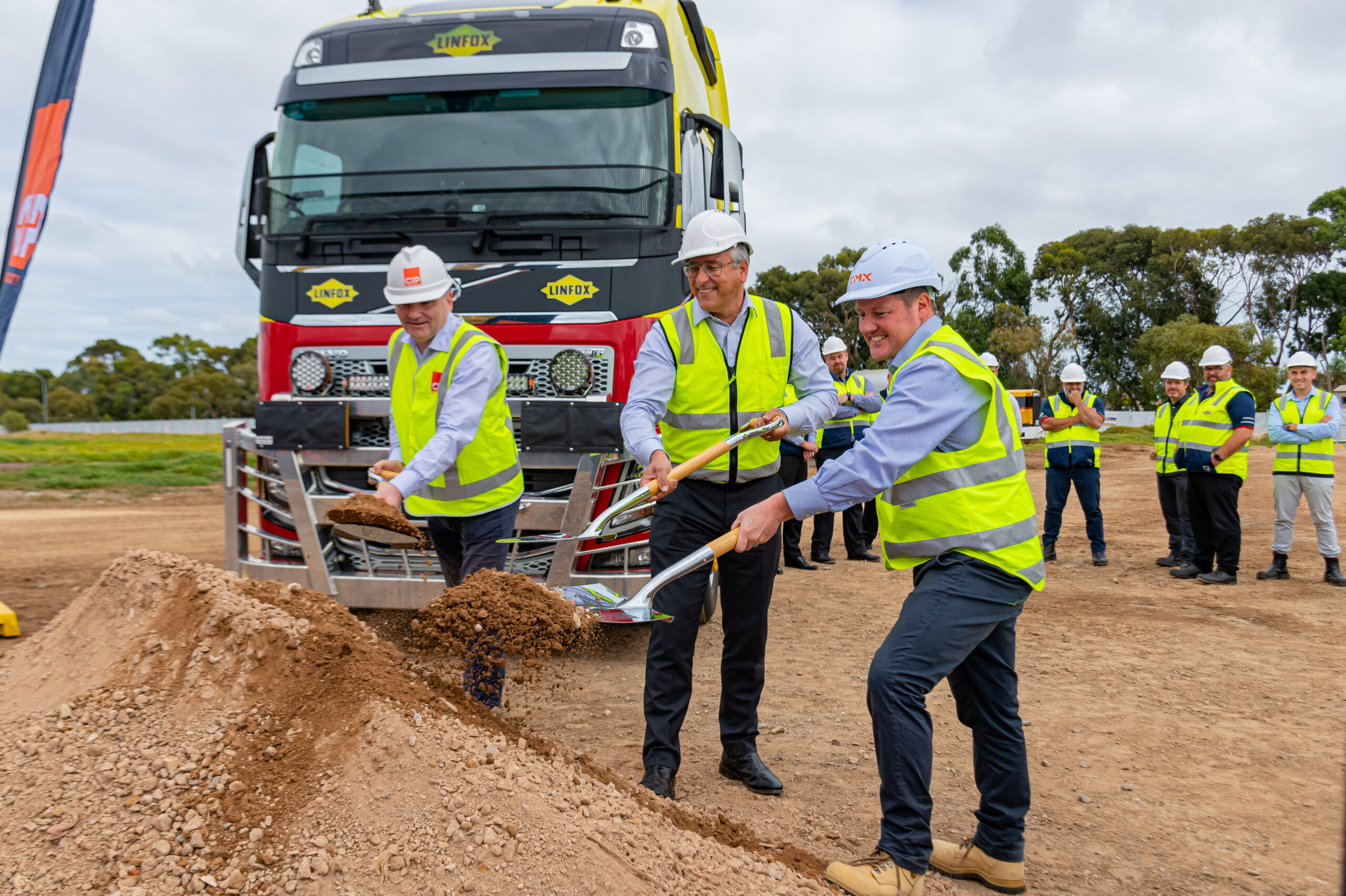 This infrastructure is particularly important as Australia shifts to local production and continues to connect the world with valuable exports.
"Given strong government investment in Australian rail initiatives, including Inland Rail and new intermodal facilities, Linfox is on the front foot as a trusted multi-modal business.
"This strategic investment will strengthen our supply chain corridors, boost local jobs and support Australia's broader economic recovery," Mark said.
Designed and built with Linfox's key construction partners, the 25,000 square-metre site on almost seven hectares will service multiple Linfox retail and consumer goods customers, each with diverse product requirements.
The various temperature-controlled zones are designed for flexibility, and are able to transition from confectionery to chiller through to frozen zones as required.
Image: CEO Linfox Logistics ANZ, Mark Mazurek (centre) joins CEO CIP, Mark Hendry (left) and Executive Director Project Services TMX, Andrew Walsh (right) to mark the start of construction on the new Adelaide Freight Terminal.
A sustainable hub
Moving freight from road to rail where possible is good for everyone. Taking the pressure off road freight reduces diesel emissions, supporting the sustainability net zero emissions targets of Linfox and its customers. It is also consistent with Linfox's Vision Zero safety promise, not to mention the efficiencies it brings for customer operations.
The site will be designed and built to achieve a 5 Star Green Star rating via the Green Building Council of Australia (GBCA) Green Star Design & As Built Rating tool.
LED lighting with motion sensor activation
650kW solar photovoltaic (PV) panel system
600kWh battery storage solution
Rainwater tank harvesting to supply water for toilets and irrigation
Future proof with electric vehicle charging capabilities.