Linfox wellbeing program finalist in National Safety Awards of Excellence
Linfox is proud to be a finalist in the Best Wellbeing Program category of the 2021 NSCA Foundation/GIO Workers Compensation National Safety Awards of Excellence.  
The awards highlight the commitment of Australian businesses and individuals to continuously exceed the safety standards in their industry.
Linfox was selected from a pool of 125 nominations across all categories, recognising our longstanding investment in the people that keep our nations moving.
We know the health and wellbeing of our team members and our community is inextricably linked with safety on our roads and at sites.
"This nomination reflects Linfox's ongoing commitment to diverse programs and initiatives that keep our people safe, healthy and well, as part of our industry-leading Vision Zero program," said CEO Linfox Logistics Australia and New Zealand, Mark Mazurek.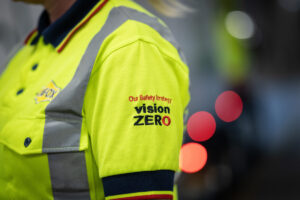 Since 2014, the Linfox-designed Healthy Fox program has connected thousands of team members with tools, resources and opportunities to encourage healthier lifestyle choices and create better mental health, general health, nutrition, fitness and strength.
"We know Healthy Fox achieves results through wellbeing enhancement opportunities. Whether it's a movement campaign, mental health initiative, prioritised COVID-19 vaccines, free bowel cancer screening kits, general health/skin spot checks, yearly flu vaccines, or raising awareness about a range of health issues to support prevention and early intervention, Healthy Fox is dedicated to positive health outcomes," said Mark.
"We have also boosted this support as COVID-19 intensifies challenges in our work and home lives, taking an emotional toll on many of us."
Healthy Fox is managed by health experts and navigated by government health insights and research-based outcomes. Linfox has partnered and invested in multiple industry research projects to inform insight and action into industry health and wellbeing challenges.
Linfox is also a proud founding member of Healthy Heads in Trucks & Sheds (HHTS). Launched in 2020, HHTS exists to promote prevention and understanding of mental health issues across the road transport and logistics industries in Australia.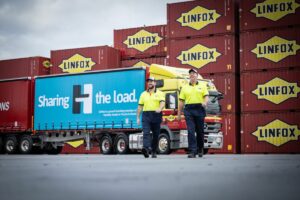 Linfox provides a free, accessible Employee Assistance Program offering support and coaching across numerous areas including legal, financial, elder care, domestic and family violence, and indigenous helplines. Mental health first aid training is also prioritised across the business.
Linfox takes corporate and social responsibility seriously, through partnerships with the likes of White Ribbon, Red Cross and Donate Life campaigns.
Healthy Fox has the passionate and ongoing support of the Fox family, the Linfox Board and leadership team.
The 2021 NSCA Foundation/GIO Workers Compensation National Safety Awards of Excellence winners will be announced in December 2021.  
Read Linfox's 'Health and wellbeing in transport and logistics' whitepaper.
#nationalsafetyawards