Linfox leads in warehouse automation with another smart goods-to-person solution go live at a Linfox-managed distribution centre this year.
A major consumer goods customer is now enjoying increased order throughput, more efficient space utilisation and increased picking accuracy.
Linfox IT and Consumer and Healthcare Group business experts partnered with automation provider Swisslog to design, build and implement what is the second automation of its kind for Linfox in Australia.
Linfox Analytics and Design Services and operational teams determined a strategic, future-proof solution, evaluating the most advanced technology available.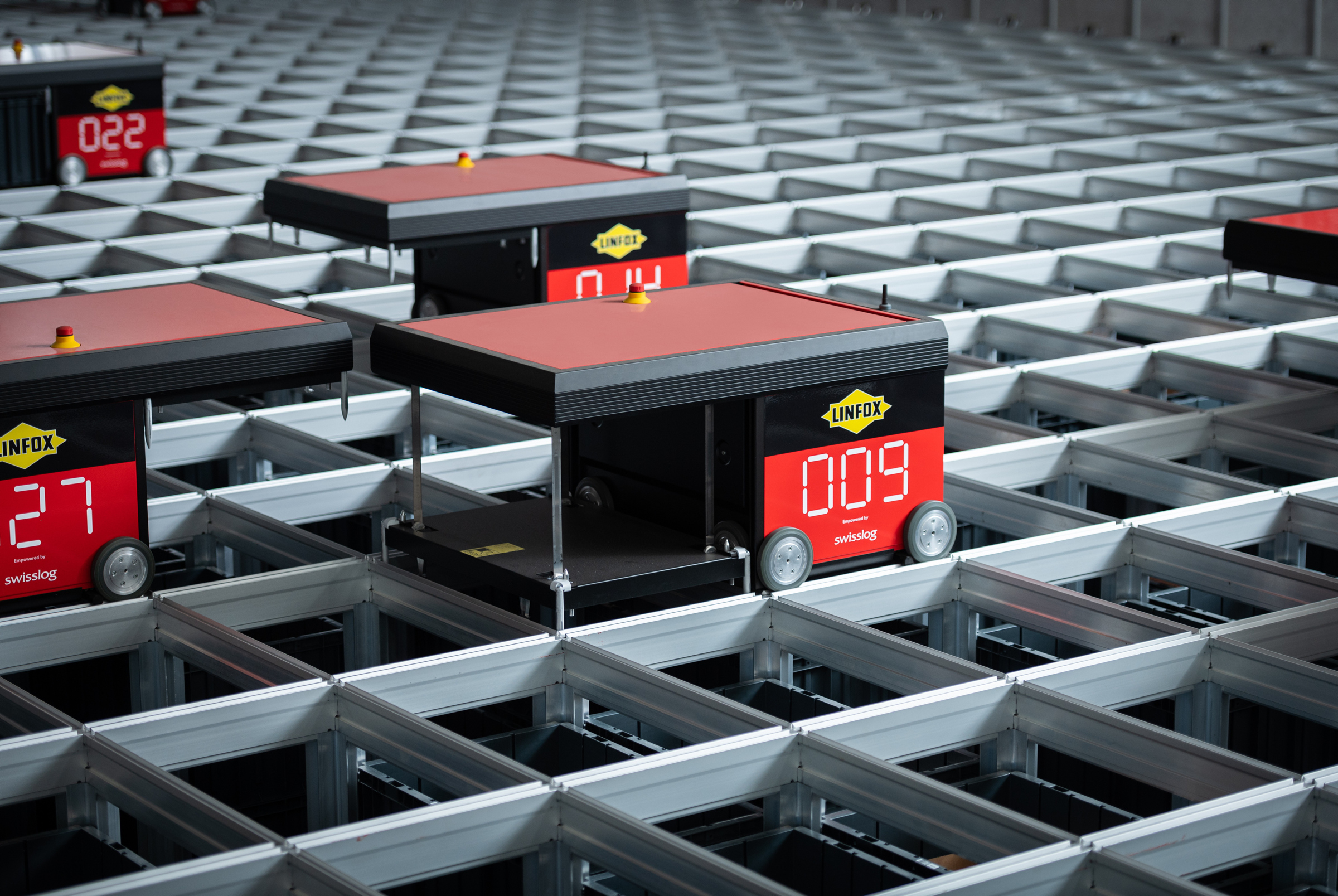 Technology in motion
Tailored to the customer's business profile, the AutoStore optimises the order journey from receipt and processing through to store delivery.
Thirty-one radio-controlled robots move along a grid on the top of multiple bin stacks. On receipt of an order, the smart robots lift bins from the vertical stacks and deliver them to the picking station, where a team member verifies the contents and adds picked stock to the order. The robot returns the bin, then new stock is loaded into it for storage and future picking.
Orders are sequenced to maximise picking order productivity. The system automatically adjusts to varying levels of demand and product mix, ensuring quality and accuracy in the pick and pack process.
Designed with the customer in mind
Able to manage a variety of product and carton sizes, the system offers greater flexibility in the way orders can go to market. Picking an impressive 13,500 order lines per day, the adaptable solution manages the customer's 120-plus SKUs range with ease.
With more than 9,700 storage bins, the system holds several weeks of stock and neatly streamlines the replenishment process.
Linfox tailored additional automation features to customer requirements:
The need to manually stage and sort picked orders on belts is eliminated, freeing time and staging space. The AutoStore picks the order and returns it to the grid as an automated buffer. When all orders are in, the transport management system optimises their delivery sequence and operators can retrieve them in drop sequence via the AutoStore. They are then packed according to their delivery route.
The AutoStore improves stocktake controls using artificial intelligence via digital cameras to confirm totes are empty and inventory has been accurately shipped.
Less space, more storage, better performance
This AutoStore sees a staggering 50 to 60 per cent storage capacity improvement compared with traditional warehouse pallet racking, almost doubling stock cover to between three and four weeks.
This new world logistics project builds on Linfox's 20 years of logistics solutions for this major multinational customer across Australia, allowing their organisation to optimise its national distribution centre network.
A smooth evolution
Customer operations don't stop, so disruptions must be minimised.
Linfox effectively managed key work streams including construction, systems, process, testing and operations, all in the face of COVID-19 site access restrictions and remote communication challenges with vendor teams abroad.
The operations and design teams built automation mock-ups to test processes and flows that anticipated any unexpected interactions with the equipment – yet another example of Linfox teams achieving together for our customers.
New opportunities
As automated warehouse technology develops, opportunities emerge for Linfox people to develop new skills and career paths. Optimisation programs with our operators, vendor partners and systems support teams see planning and problem-solving skills developed in a whole new way.
Several automated warehouses continue to power-up operational performance for Linfox customers, with more on the way.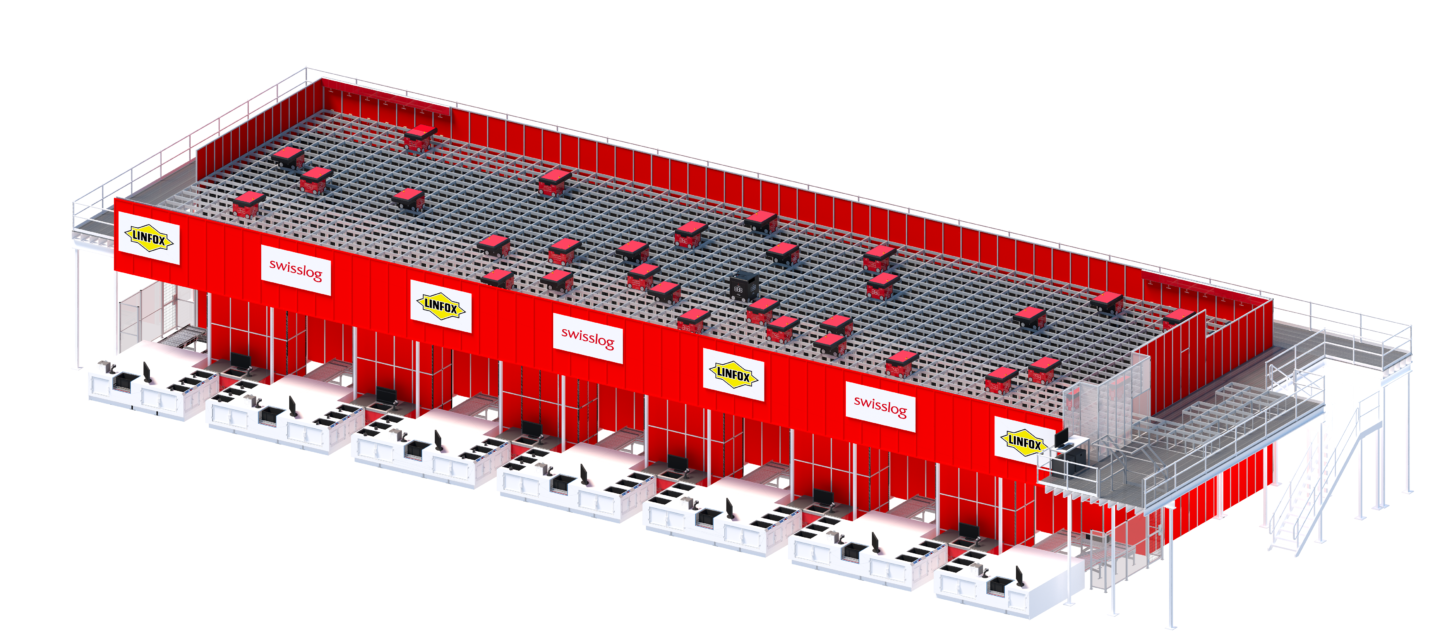 New world goods-to-person warehousing
Faster picking speed
Reduced inventory storage footprint
Increased inventory and shipping accuracy
Faster order cycle times
More secure storage
Easily expandable for growth
Flexible design for existing warehouses
Multi-tasking to pick and stock goods simultaneously
Self-optimising as high-frequency bins automatically organised to expedite picking
Controlled access to bins is only from ports, reducing product loss
Built-in redundancy as each unit and robot operates independently
Technology-backed by:
Linfox Digital Warehouse Management System
Swisslog AutoStore Control System- SynQ
Fully integrated conveyor controls
Full traceability and trackability