As the logistics sector and its customers navigate the turbulence of COVID-19, data that informs efficient, smart supply chains is even more critical to keep products moving locally and globally.
Based on our 65 years of logistics experience, Linfox continues to build a suite of smart digital warehouse and transport solutions that are customisable and agile.
Every Linfox customer is different and inevitably, so are their supply chains. The best logistics formula for each business is always backed by modern technology, and Linfox relies on it for advanced data analytics to inform decisions and drive results.
We know robust data is at the heart of efficiency, which is why we consistently and securely capture, analyse and leverage data across the organisation.
Linfox's talented Data and Analytics team was created with this mind.
Our Linfox data champions focus on elevating the use, storage and management of all Linfox data assets. The analytics derived from that data helps us confidently design the best customer solutions able to be onboarded quickly and smoothly, while boosting capability and efficiency for our own teams.
With focus on the synchronisation, transformation and data modelling, the team has overseen an uplift in its capture, governance, use and interpretation; as well as using data science techniques and tools to deepen insights, make predictions and generate recommendations – all to supercharge customer performance.
Secure data storage is obviously a big priority in today's environment. Data availability is key too, but in a stable, scalable and efficient manner.
With the selection of cloud-based solutions from technology partners Snowflake and Microsoft, we can deliver secure enterprise data warehouse and data insight capabilities to the entire organisation.
Future-ready solutions
These types of solutions also help streamline cost efficiencies – for us and our customers. We can start small on our data initiatives while retaining the ability to scale up to a true enterprise-wide solution, through nothing more than configuration changes in the cloud.
Take our real-time COVID-19 vaccine data tracking analytics for example (above).
A proof of concept was first raised with a goal to load and report the temperature status of vaccine shipments to ensure quality and integrity throughout the supply chain.
The test focused on 70 shipments which would generate 10,000 temperature events per day. After the success of this initiative and through effective environment configuration changes, this same solution is now analysing 24,000 temperature events every hour.
This technology-backed cold chain capability was key in our selection by the Australian Government to distribute COVID-19 vaccines in New South Wales, Queensland and the Australian Capital Territory.
Building and sharing customer insights
Linfox has also enabled secure and automated data sharing and exchange with our customers, underpinned by Snowflake's data sharing and exchange capabilities.
Data science helped us develop an automated data quality assessment application so our customers can manage any quality issues in their product master data. This boosts quality operational performance and improves delivery accuracy.
With the power and flexibility of the Snowflake data warehouse, the team also united shipment tracking data from multiple transport management systems, giving customers near real-time shipment track and trace visibility via the Linfox Customer Portal. Here customers can view current and historic shipment details, status and proof of delivery documentation.
By combining the Linfox Customer Portal and Power BI platforms, Linfox customers gain real time insights into our warehouse activities. This visibility has bred success with iconic Linfox consumer goods and retail customers, improving their operational understanding of inbound and outbound order status, put away and picking activities, stock replenishment and bin utilisation, even product spoilage and recalls. This transparent operational view gives customers more time to focus on their day-to-day business.
Using Snowflake's capabilities, Linfox has introduced new ways to share and exchange data with our customers in a secure and automated manner. While we already offer real-time integration for customer logistics events, this approach allows customers to provide us with real time data changes that might not be captured in event driven processes, or via their own mature supply chain data and analytics.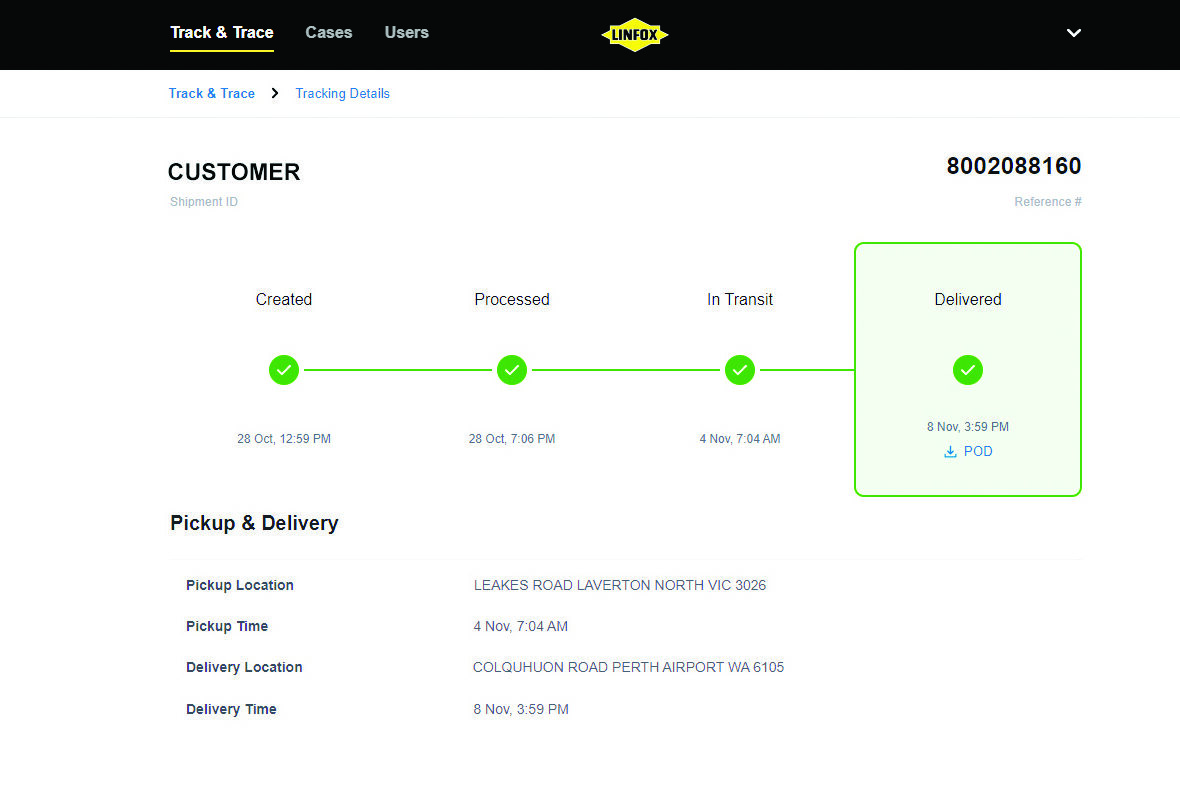 Better organisational visibility
Our Data and Analytics team also improved visibility and awareness of Linfox agency and subcontractor partners. These insights better equip Linfox to build productive relationships, while ensuring our partners can adhere to the same high standards of customer service, safety and compliance we expect of our own Linfox team.
Data science is also a critical step in our journey towards better, more efficient ways to analyse large amounts of Linfox's own data. Through artificial intelligence, Linfox can better optimise our supply chain whilst ensuring a safe workplace environment for our team.
Linfox will continue its best-practice approach to realise our goal of working smarter, leading in technology and innovation and building confidence in customer outcomes.