Linfox has installed its largest solar photovoltaic (PV) system to date at the Linfox Willawong, Queensland state cross-functional facility.
Configured on the roof as a giant Linfox logo, it is an unmissable symbol of the company's commitment to act sustainably.
As Linfox continues to strive towards net zero emissions, the 750-kilowatt (kW) solar PV system accompanies its first-ever industrial 555-kilowatt hour (kWh) Battery Energy Storage Solution (BESS), which has a solar storage and discharge capability enabling further solar energy self-utilisation.
Together, these will reduce 43 per cent of total site energy consumption from the grid.
With 1,950 individual high durability panels, the tier-one solar PV system is set to produce abundant solar power for at least 25 years. The site's strategic location also means the system can access more solar hours.
The site will be Linfox's first carbon-neutral warehouse, comprising the solar PV system, the lithium iron phosphate BESS, LED lighting, electric truck charging capabilities, a reforestation area and waste recycling stations.
Without renewable energy sources, the site would consume 2.1 million kWh annually from the grid. The previous 200kW solar PV system saw this annual usage drop to 1.9 million kWh, with the additional 550kW set to further reduce consumption to 1.2 million kWh.
Linfox Willawong, Queensland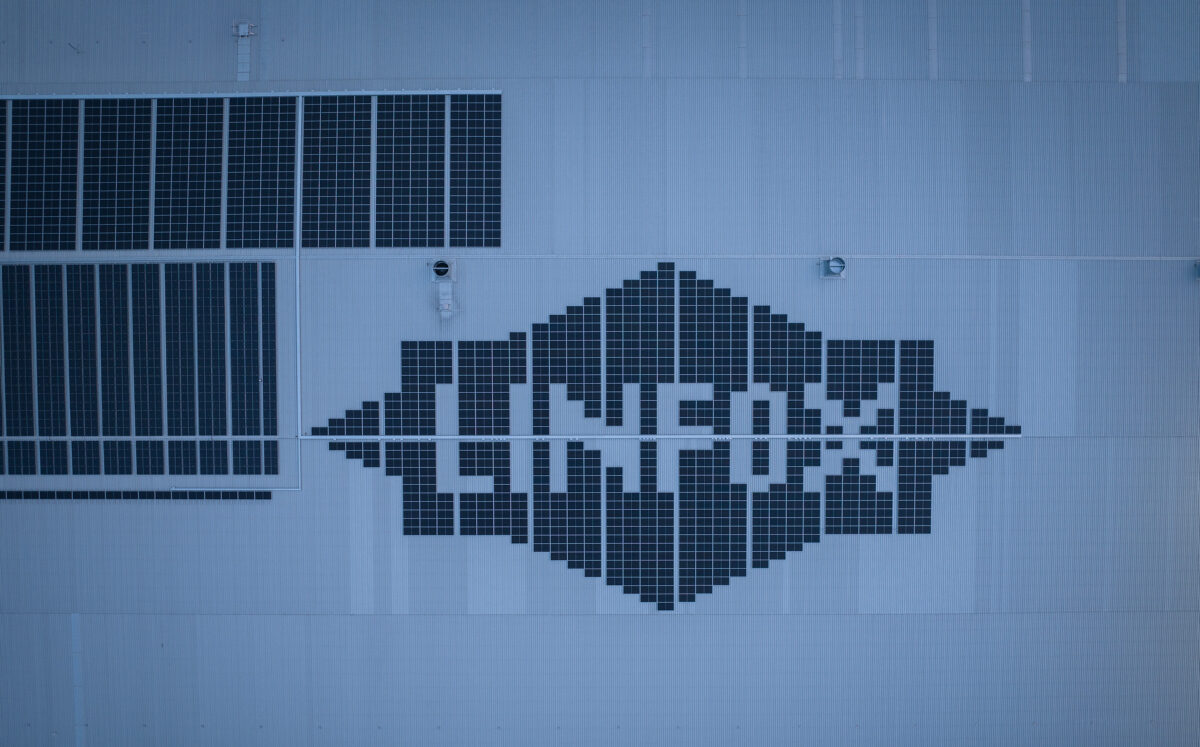 Solar PV system
750kW
1,950 panels
Tier one product quality
25+ year life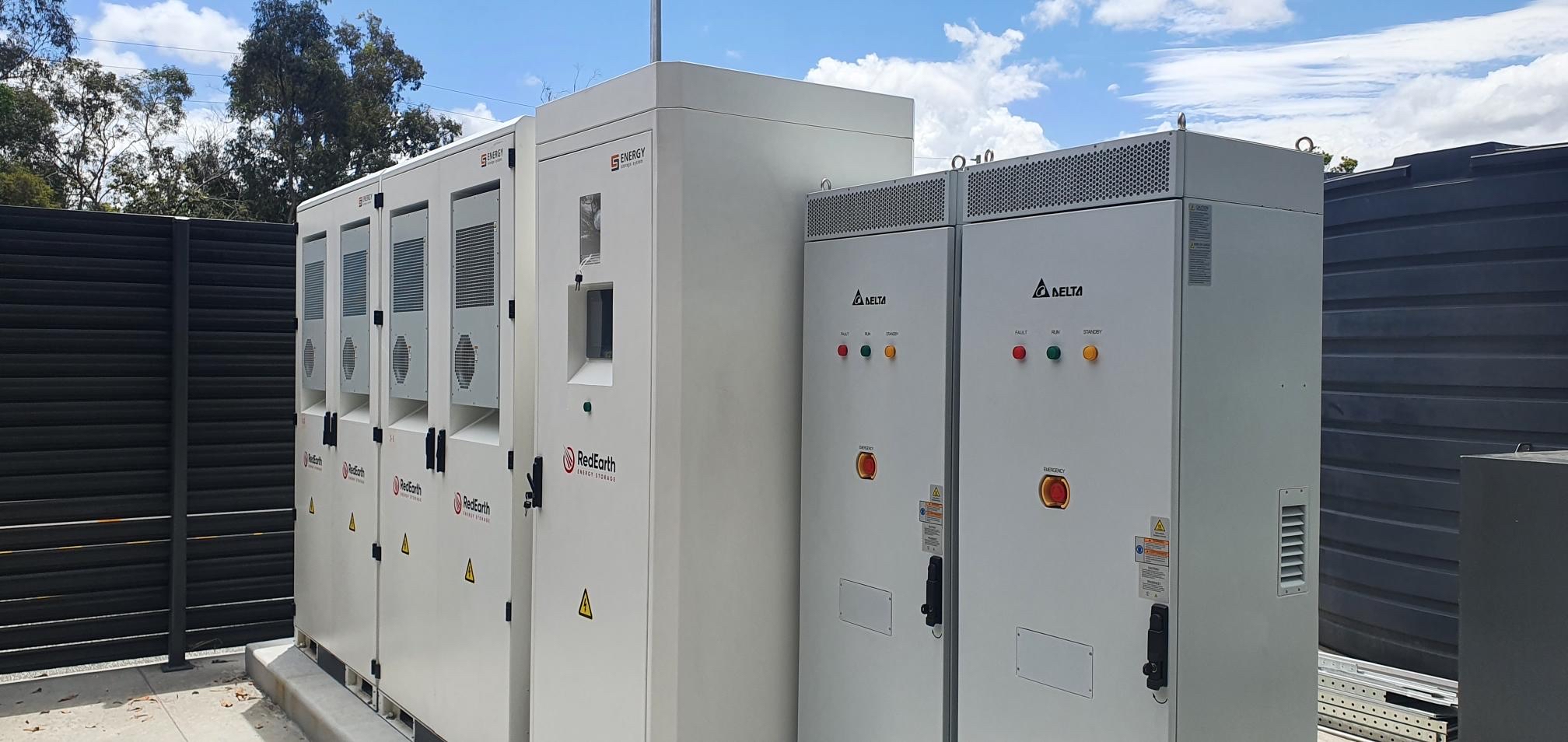 Battery Energy Storage Solution
Linfox's first-ever industrial BESS
Cobalt-free lithium iron phosphate battery for better safety and reliability
Reduced peak demand usage and costs
Additional battery storage, easy to enable for future use
Strict safety and fire protocol assessments
Smart control platform provides advanced analysis and reporting, able to be managed remotely by engineers
Manufactured by Red Earth Energy Storage and assembled close to the Willawong site
Linfox manages the battery lifecycle and its end-of-life recycling
"Linfox has a serious commitment to reduce our greenhouse gas emissions to zero, and projects like this reflect how we are getting closer to that goal," said Linfox Manager Environmental Sustainability, Ruby Diaz.
"Our Scope 2 emissions, resulting from the generation of purchased energy, have significantly reduced due to a four-fold increase in our solar capacity since we started the installation process.
"Now, with the Willawong DC pioneering this combination of solar and battery systems, we hope to further accelerate reductions while charging our electric fleet with clean energy," explained Ruby.
"Battery technology is an important element of our decarbonisation program – it will help us reduce reliance on the grid, especially when the sun isn't shining or the wind isn't blowing."
Learn more about Linfox Willawong's sustainability features with a 3D tour:
The Linfox Willawong, Queensland site has Five Star Green Star certification. This certification demonstrates Australian excellence in sustainability by covering current and future demands on the built environment, with aspirational benchmarks to address the key issues of the next decade: climate action, resource efficiency, and health and wellbeing.
The certification recognises environmentally friendly features targeting areas such as:
People: Addressing the social health of the community
Nature: Active connections between people and nature
Leadership: Building a vision for the industry and enhance innovation
Responsibility: The building is designed, procured, and built in a responsible manner.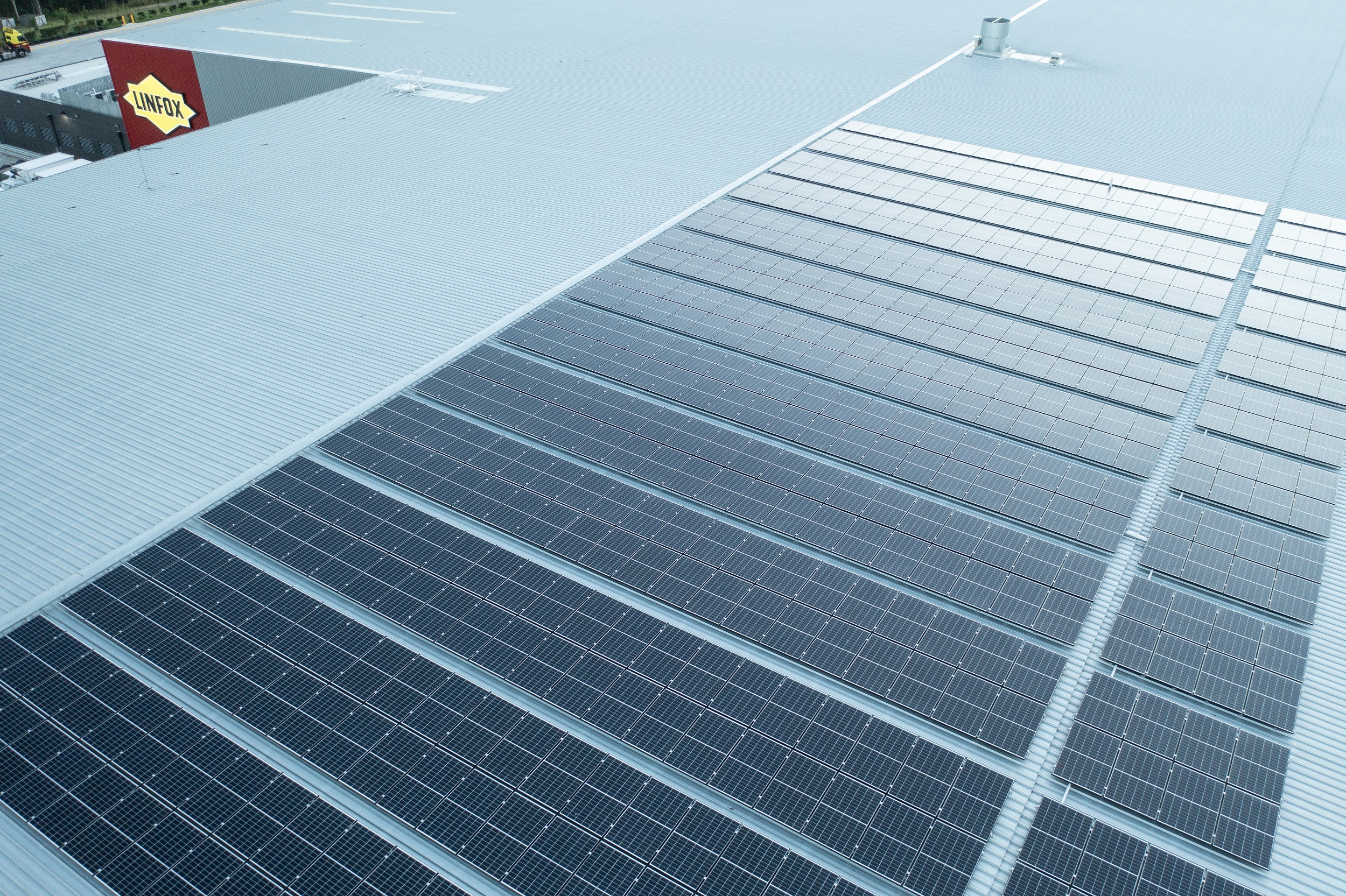 Linfox is investing in sustainable sites
Linfox has three new logistics facilities under construction in Western Australia, South Australia and Victoria, all seeking Five Star Green Star ratings toward carbon neutrality, in accordance with Linfox's commitment to act sustainably.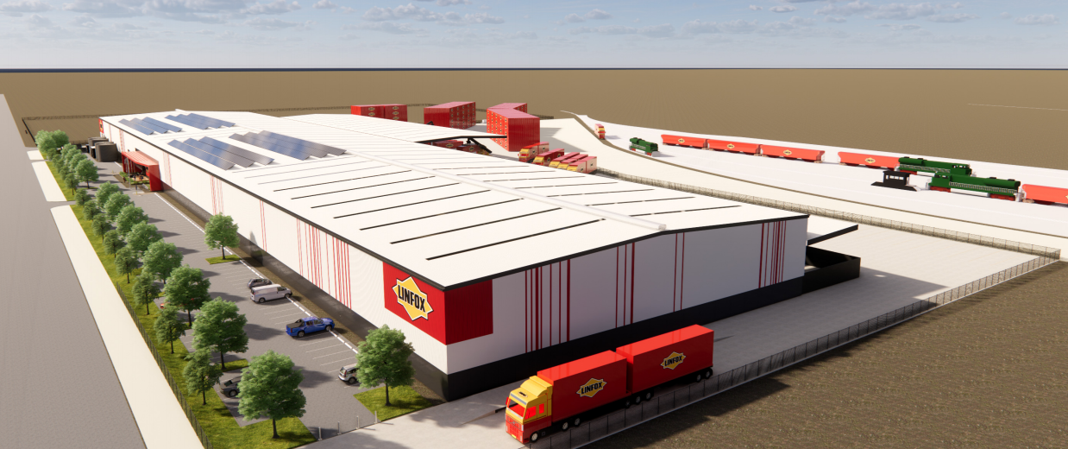 Adelaide Freight Terminal, SA
Solar 700kW
Battery 500kWh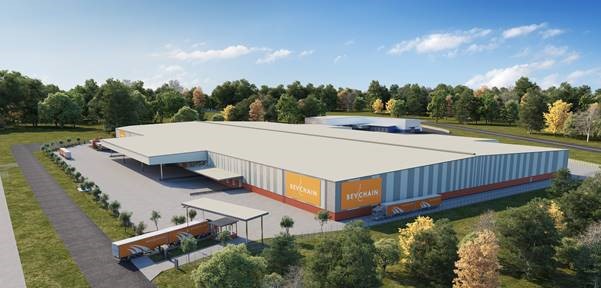 BevChain DC, Maddington WA
Solar 500kW
Battery 500kWh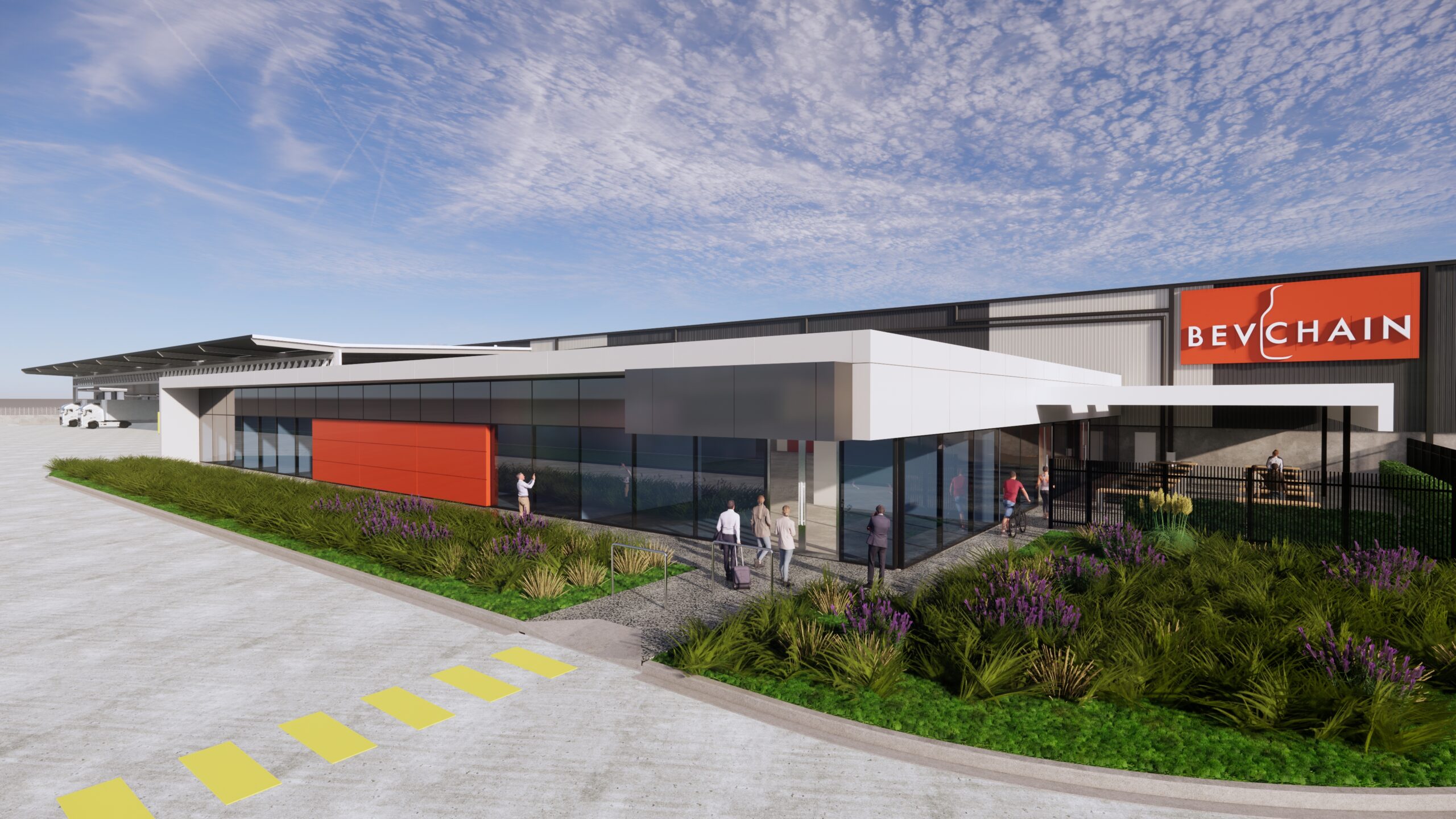 BevChain DC, Laverton VIC
Linfox Logistics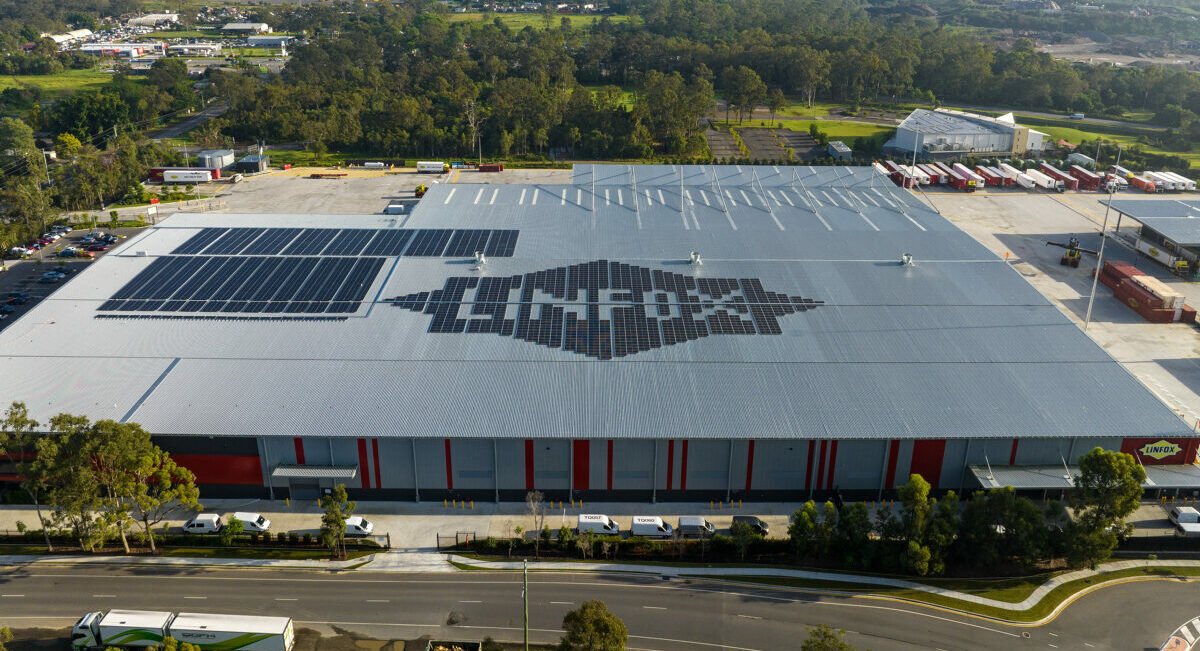 Solar snapshot
13 completed solar installations totalling 1.6 megawatts
16 additional proposed solar projects totalling 7 megawatts
Linfox solar energy has increased sixfold in the last six years avoiding at least 1,438 tonnes of carbon emission annually.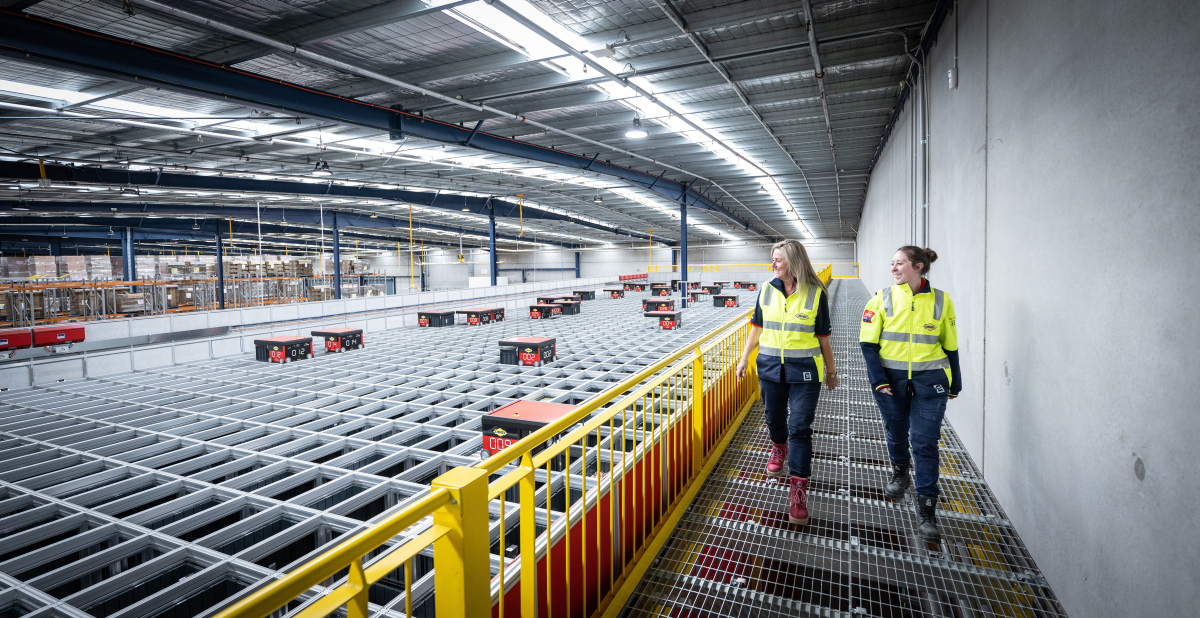 LED lighting snapshot
1 million kWh electricity saved annually
9,256 tonnes carbon emissions avoided
33 sites with LED lighting
7,310+ LED lights installed