As Australia learns to live with COVID-19, Linfox's cold chain pharmaceutical supply chains are protecting communities against the coronavirus and other evolving health challenges.
A national pandemic response
Part of the Linfox Consumer and Healthcare Group, the Linfox Healthcare team plays a vital role connecting Australians with COVID-19 vaccines and associated supplies for the Australian Government's Federal Vaccine Taskforce.
Under some of the strictest global temperature-control requirements, this logistics effort helped Australia achieve one of the highest COVID-19 vaccination rates in the world, with more than 95 per cent of Australians over the age of 16 having now received two vaccine doses and almost 70 per cent triple vaccinated (as at 25 May 2022*). As a result, increased public immunity has allowed restrictions to ease over recent months.
"As we were trusted with additional COVID-19 vaccine logistics by the Australian Government, our cold chain distribution partnership grew from three states and territories to cover the entire nation," said CEO Linfox Logistics Australia and New Zealand, Mark Mazurek.
"This meant a significant increase in the variety, volume and distribution footprint of vaccines and accompanying consumables such as syringes, swabs and sharps containers.
"Our teams worked around the clock to deliver these shipments, all in the face of evolving COVID-19 variants and resulting supply chain disruption, including the road and rail outages caused by extreme weather events in early 2022," explained Mark.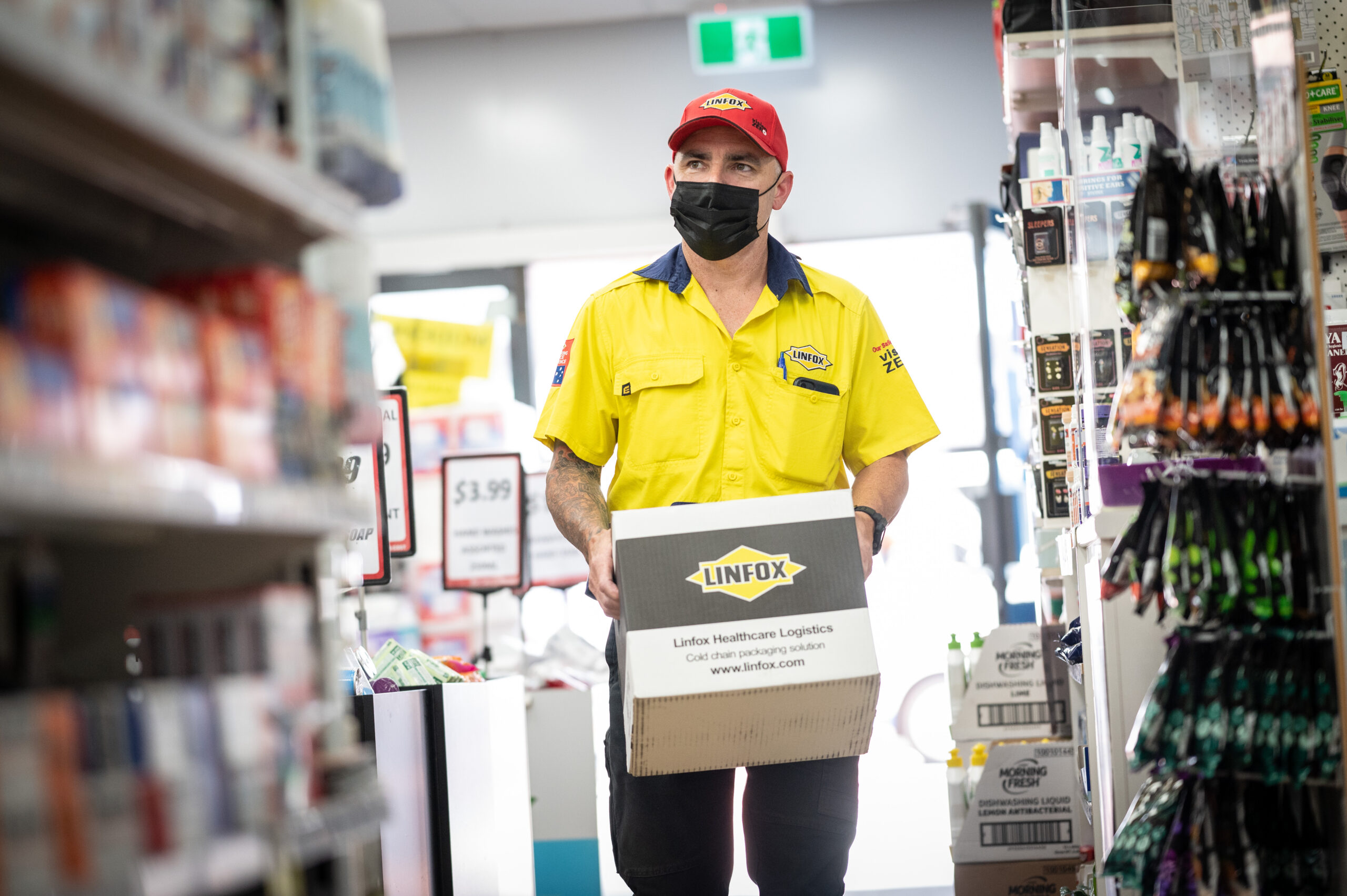 The numbers: COVID-19 vaccine distribution
10,553 metro and regional communities serviced
47,929,000 kilometres travelled
34,260,000 vaccine doses delivered
177,500 vaccine consumables handling units delivered
603,339 quality checks conducted
216,000,000 data messages (25,000 per hour) with 100% accuracy

Compliant delivery on time and in full:

99.7% – Vaccines
99.1% – Consumables

Cold chain performance:

100% – Distribution centre
99.85% – Delivery

Figures as at 6 May, 2022.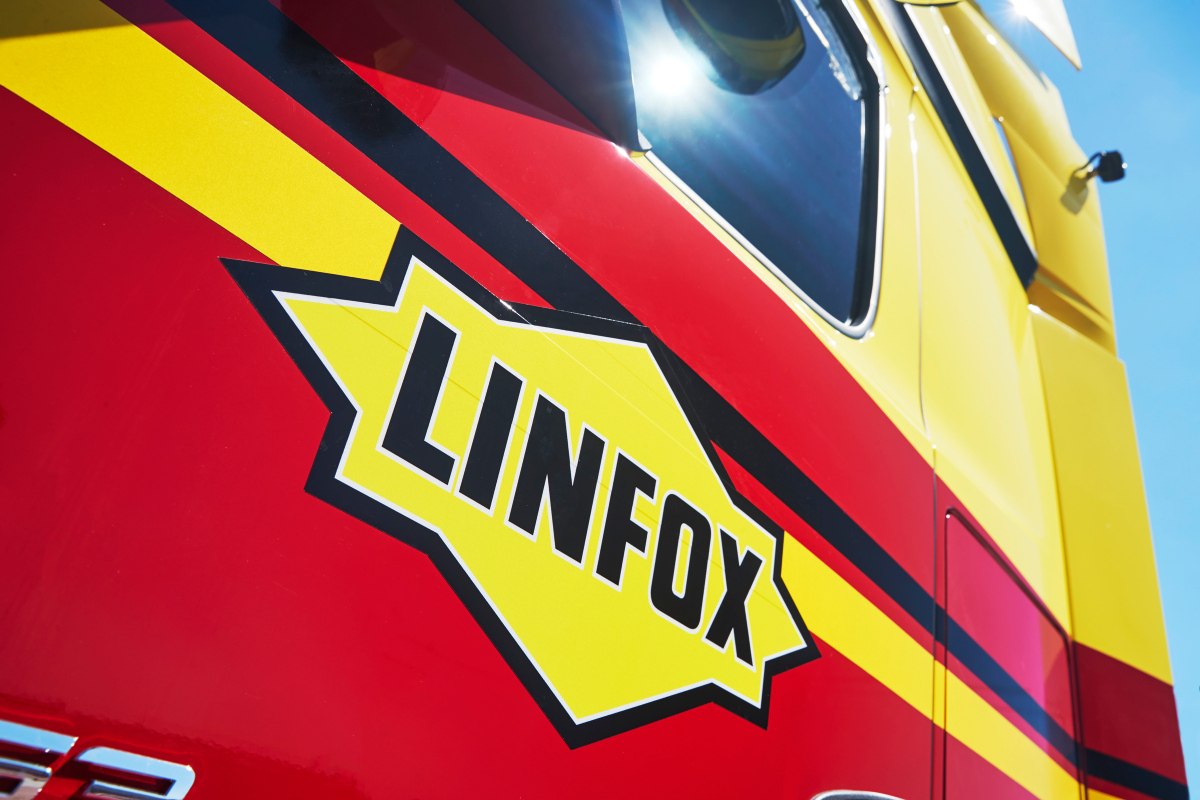 Linfox pandemic logistics support to state governments
New South Wales
New workforce operationalised
19 warehouses prepared
140,000 pallets of PPE managed including 16,000 of dangerous goods
Victoria
45 million time-critical RATs delivered to more than 7,000 early childhood education centres, primary and secondary schools
12 million RATs from international manufacturers delivered to Victorian holding locations
Since July 2020, Linfox has:
Managed, stored and distributed a large stock holding of 900 pallets of PPE (face masks)
Managed and stored 250+ pallets of hand sanitiser.
Figures as at 4 May, 2022.
Albeit a critical part of its healthcare logistics expertise, Linfox's important work distributing pharmaceuticals extends well beyond COVID-19 vaccines.
Preparing for flu season
As Australia faces a tougher than usual flu season in 2022, Linfox Healthcare continues its important work managing flu vaccine warehousing and distribution. This supports Australia's National Immunisation Program for a major pharmaceutical customer and flu vaccine manufacturer.
"The safe and efficient distribution of this quadrivalent flu vaccine is more important now than ever," said Mark.
Linfox has distributed 4.3 million flu vaccinations across Australia (year to date as at 24 May, 2022).
"Distributing these shipments will protect our communities, minimise the impact on our overworked health system and keep our economy moving after a difficult two years."
Linfox is also providing this customer's flu vaccines for free to all Linfox team members across Australia and New Zealand.
Japanese encephalitis: Market-ready vaccines
Linfox Healthcare is again on the front foot with vaccine logistics, after the Japanese encephalitis virus (JEV) outbreak was officially declared a 'communicable disease incident of national significance' by the Australian Department of Health.
"We are now providing expert logistics support for a major JEV vaccine manufacturer, as they urgently import extra stock to cover increased demand due to the Australian outbreak," explained Mark.
Linfox has assisted in preparing around 150,000 vaccine doses (as at 6 May, 2022) for shipment as part of its value-added service that repacks, relabels, inserts product information leaflets, then distributes stock to state health departments for distribution.
"This careful work helps achieve strict Therapeutic Goods Administration (TGA) compliance and supports our customer to comply with its Australian Government  supply agreement."
JEV is a serious disease spread by mosquitoes, endemic to parts of Australia and the Torres Straight region, which can result in severe disease and death.
Vaccination and insect repellent are the only two ways to protect against the virus.
Sources: